One of our most ardent European readers often chides us for our unrelenting commentary where we equate the moral relativism practiced by Swiss Nationals Sepp Blatter and Gianni Infantino with regards to corruption at FIFA to the Swiss National psyche that allowed the country to clandestinely do roaring business with the Nazis during WW2, whilst flying the banner of neutrality for all to see.
While concurring with us that Switzerland took money from the depraved Nazis on the one hand, he honestly believes that Switzerland takes money from anyone, including likely Trillions of dollars from international tax evaders and looters of countries, especially those of dark skin pigmentation who masquerade as the African bourgeoisie.
His coup de grâce on this issue however, is one for the ages, where he enquires what our thoughts are about Arabs, who for Centuries were slavers of black Africans…aren't they now our perceived continental bosom-buddies, he wonders?
This is certainly a story for another day and worthy of a separate, stand-alone article.
But it's impossible to write about Nazis and their wealth hidden in Switzerland and ignore the role of Argentina as a safe haven for these madmen in the post-war years, especially when you juxtapose it to Infantino's apparent obsession with the country.
Is Argentina lucky or blessed?
It is confounding how one country can have produced Maradona and Messi, Pope Francis and Evita Peron, living legends in their own right, each in their own time.

The football rivalry between Argentina and Brazil is the stuff of legend as anyone who has lived on earth for the last half century can confirm, but the mental outlook of the citizens of both countries could not be more different.
The rivalry between the two countries even starts at the level of football officials, for instance, who won the trophy for being the most corrupt between João Havelange (FIFA President 1974 -1998, Brazilian) and Julio Grondona (Argentina FA President 1979 -2014).
It was Havelange who molded Sepp Blatter into the lethal purveyor of football corruption that he eventually turned out to be, but everyone still scratches their heads at how Grondona escaped unscathed from his Vice Presidency of FIFA from 1988 -2014, where it was an open secret that he had a hand in virtually all World Cup bribery scandals…

Argentinians are known to be fiercely competitive, but notably more brash and abrasive about it, preferring to decimate, shame and humiliate opponents completely, then gloat some more.
During the World Cup 2014 in Brazil, it was common to hear Argentine fans sing loudly "one, two, three…. seven" (the 7-1 loss against Germany in the semi-finals) and "we have Maradona and Messi and not a faggot like your Pelé", every time they came across Brazilian fans.
Brazilians though were easy and mellow about it all through, gracious and magnanimous hosts through and through.
Diego Maradona, Argentine talisman who apparently cannot help himself when discussing his compatriot, former ManU midfielder, Juan Sebastien Veron, a man that he has variously referred to as "este hijo de puta"
It could be this streak in their DNA that would allow them to rationalize allowing thousands of Nazi asylum seekers, and giving them permanent residence in their country, all the while showing the rest of the World the middle finger, while at it.
An attitude and obstinacy that forced Israeli Mossad to tip-toe into the country in 1960 and kidnap Adolf Eichmann, one of the architects of the Nazi "final solution" then spirited him out to the new state of Israel for trial and execution.
And maybe this "no fucks to give" attitude of Argentinians is what endears them to current FIFA President Gianni Infantino.
Didn't Infantino, in one of his first overt acts upon election to the FIFA Presidency mend bridges with Diego Maradona, an icon who for many years had described FIFA as the bastion of corruption?
Didn't Infantino appoint "Mano De Dios" to captain the ill-fated PR machine by the name FIFA Legends, before he left barely two years later when it became apparent that he had been duped by this manipulator?
Hadn't Infantino attempted to insinuate Maradona into the leadership of the Argentine FA? Apparently Maradona is much loved in his native Argentina as long as he stays away from its football, a fact made clear to FIFA by the Government.
But first, some background to the Argentinian football crisis that required FIFA intervention.
When the grand old man of Argentine football Julio Grondona died in 2014, the football federation organized elections which pit the then vice-president Luis Segura against a TV show presenter and entrepreneur Marcelo Tinelli, who had only recently come into football.
The elections were televised live and it was confirmed before the start of voting that there were 75 voters in the Electoral College.
Lo, and behold, at final tally the total number of ballots was 38 against 38!
Stalemate! How the hell can an entire Argentine Football Association cock up a mere 75 ballot vote and where the hell had the extra ballot come from?
The situation became even more chaotic when the judicial system stepped in by freezing all ongoing electoral processes because they were investigating some misuse of public funds from when Grondona was still alive.
Judge Maria Servini de Cubria was then investigating irregularities worth millions of dollars in public funds paid to the AFA from 2009 to 2015 in exchange for broadcasting rights of first and second division matches.
The television broadcasting rights for all Argentine football league matches had previously been held by the Clarín Group cable channel TyC Sports since 1992. That contract was terminated by the Argentine Football Association in August 2009, and broadcasts of all league matches were made freely available as Fútbol para Todos ("Football for All").
These broadcasts were afterwards used to provide advertising for the government, and with the single exception of Iveco, no advertisements from non-governmental sources were aired after March 2010.
This was the product of the thinking of the then Argentine President Cristina Kirchner.
There are four professional divisions in Argentina, meaning tens of clubs are completely dependent on these broadcast funds. Since Inflation, sometimes as high as 5000%, and which has historically resulted in several large currency devaluations had been a persistent problem in Argentina, parties would meet once a year to discuss the increment of this money which would then be paid out on a three months basis through the Argentine football federation.
Judge Maria Servini de Cubria suspected that the federation was negotiating the three month vouchers by selling them in advance at a price that was under their real value and then cashing the same voucher at full value when the government was disbursing the funds.
The judge also had part intuition and part evidence that federation employees were using connections with banks for these advance purchases of the discounted vouchers from these clubs.
Now here is the kicker, these clubs (whose Chairmen were also voters at the AFA Electoral college) were highly indebted and would therefore approach Grondona for these short term vouchers at highly discounted rate.
Those who had sworn fealty to Grondona and supported him to retain his vice-like grip on power would get 6 months to 9 months advance on their vouchers.
No one could get more than this due to the annual inflation and revenue revision meeting, as no one could predict what the entire sum allocated to AFA would be beforehand.
The good judge discovered that most of the vouchers could even be discounted by between 20% -25%, which could work out to a quarter of 10s of millions of dollars annually which is a shylocks business any way you look at it.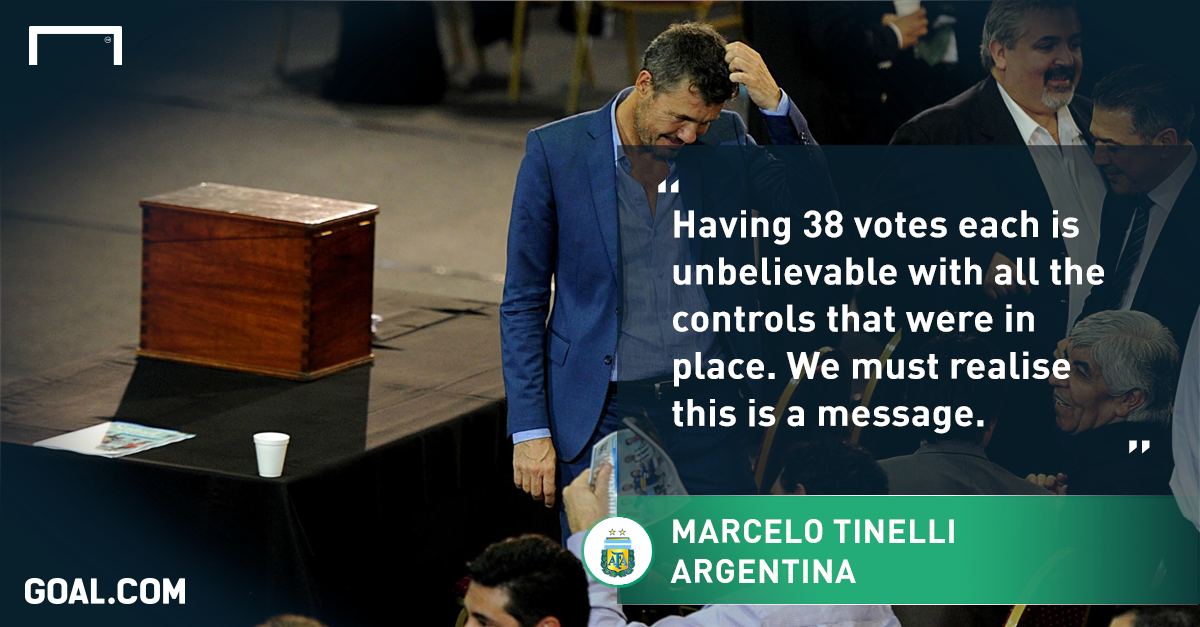 FIFA quickly sent a mission headed by one of its employees to Argentina, when the elections collapsed and the Argentine judiciary intervened, and from the outside looking in, it looked like a case for an automatic Normalization committee (NC).
In order to slow down the investigating judge, FIFA told her that she could go ahead with her enquiries but not to interfere in the statutory process FIFA would be putting in place.
Among the potential candidates for the normalization committee, was a man called Fernando Mijan, then vice-chairman of the FIFA Appeals Committee and who (being very helpful) had facilitated the FIFA delegation meeting with the investigating Judge.
During discussions with the FIFA employee in charge of the mission, he was asked about his position at the FIFA Appeal Committee, his other position as chairman of the Argentinian football Disciplinary Committee, which could be viewed as potential conflict of interest should he be made NC Chairman, and he had replied that it wouldn't be a problem because he would recuse himself from ALL incompatible cases.
The FIFA mission report highly recommended Mijan, as well as other candidates that had been interviewed during the mission, with the final decision as to the composition of the NC being left to FIFA President Gianni Infantino and CONMEBOL President Alejandro Domínguez.
The duo of Infantino and Domínguez elected to have Mijan as a member of the NC who would also serve as its Vice-Chairman.
When the FIFA employee who had headed the mission to Argentina called Mijan to inform him of the decision, Mijan flew into a rage, calling out the unsuitability of the person selected as Chairman and few of the members, and claiming dirty games had been played.
Eventually, he issued an outright threat that he would haul this FIFA employee in front of the FIFA Ethics committee for breach of confidentiality. In Switzerland the law allows organizations to terminate the employment of anyone under the pretext of breach of confidentiality, without the need for proof or legal recourse.
Confidentiality without liability or responsibility appears to be a key tenet of Swiss law that has allowed them to be the Worlds vault for blood money for Centuries.
Anyhow, while the same FIFA employee went back to Argentina to announce the new NC, now with only 4 members since Mijan had declined his Vice-Chairmanship, the self-same Mijan had arranged to travel to Zurich at exactly the same time.
So while the 4-member NC was unveiled in Buenos Aires and the media was abuzz with these new developments, the head of mission received an email from FIFA Legal Department to instruct the new NC that they would forthwith be under the direction and control of the Argentine FA Disciplinary committee!
Yes, the same Disciplinary committee that had Fernando Mijan as its Chairman, now had the reins of the Normalization committee, a situation that was decreed by FIFA President Gianni Infantino.
For Infantino to meet a seating VP for the FIFA Appeals committee when he himself had an investigation relating to his travel and personal expenses by the FIFA Ethics committee, so early in his Presidency was the harbinger of what this Presidency would look like eventually.
Most likely though, Infantino was panicked that the slayers of Blatter and Platini were still at FIFA, the no-nonsense duo of Cornel Boberly and Hans Joachim Eckhert were in charge of both arms of the FIFA Ethics committee, while Domenico Scala and Miguel Maduro were in charge of the FIFA Audit & Compliance committee and FIFA Governance committee respectively.
Infantino had the distinct feeling that the reign of terror at FIFA was not over, and that the Guillotine was being set up on the grounds of FIFA House, especially for his neck, ala Marie Antoinette, she of the "let them eat cake" fame.
FIFA would receive a letter few weeks later stating that the AFA Disciplinary Committee had received complaints from members (including the CONMEBOL General Secretary) who wanted to declare the FIFA employee in charge of the Argentine mission, persona non grata, because apparently he had been biased in the choice of the NC members and that he should be compelled to disclose how it had been done.
The letter was signed by the chairman of the Disciplinary Committee, Fernando Mijan!
After studious silence from Fatma Samoura (FIFA GS) and Gianni Infantino at this frontal attack on a loyal FIFA employee, and the obvious fact that it was Infantino and Dominguez who had made the final decision, FIFA hang one of its own out to dry.
This FIFA employee was sacked a few weeks later. Boom!
Fernando Mijan wanted to access the massive Government broadcast grants to clubs, and to do exactly as Grondona had done, giving 3-month vouchers at 25% discount to clubs, who would then also become the voters at the AFA Electoral College.
Mijan, didn't have the balls to go for the seat in an open election, but discovered that he could game the FIFA system to sit on the NC for a period of upto 3 years with delegated authority to deal with Government for the funds.
Why wouldn't Samoura and Infantino stand firmly for one of their employees?
Infantino, with his brand of divisive politics and criminal intent has destroyed the esprit de corps within FIFA, and it's currently every (wo)man for him/herself inside this once respected football organization.
Here is our prediction, in the Confederations where there is direct correlation between corruption and the state of football, for instance in Africa, it will become very evident at the FIFA World Cup in 2022 and 2026, by how dismally African representatives will perform, that it is impossible to divorce the two.
Whatever happened to Mijan, who had maneuvered himself to be in the driving seat of football in Argentina?
Well, in South America there exists a culture of people recording phone calls with a view to leveraging others for their benefit…in simple terms, blackmail.
Someone leaked a conversation between Mijan and the president of Boca Juniors who was very worried because two of his most important players had been given direct red cards due to serious fouls injuring opponents, which meant a minimum of four games suspension, and which would make them ineligible for a vital game in the Copa Libertadores.
Mijan suggested, in the most conspiratorial voice he could muster that everything could be arranged by ensuring that no injury was reported in the medical file which would enable him to shorten the suspension and thus make the players available.
With that, the obituary was written for Mijan who was stripped off all football positions, even though he escaped any sanction from his pals in the FIFA judicial bodies, he was out.
A man who had had a hand in the decapitation of Platini and Blatter was now flushed down the toilet of history in the surest sign that Karma really does exist.