Barely has South Africa completed its nostalgic 10th memorial of its hosting of the 2010 FIFA World Cup than its football governing body SAFA, moved to remove two if its Vice-Presidents, in a move characteristic of what most South Africans have come to expect from the intellectually lazy SAFA President Danny Jordaan.
What more can be expected from a man who in 2018 moved SAFA elections forward, initially scheduled for September that year to March, hoping to catch his likely opponents flat-footed, but likely too terrified of real, issue-based competition that he placed literal landmines in their path.
So preoccupied is Danny Jordaan with retaining his position as SAFA President that he has quite evidently forgotten to do his job.

Today, South African National team football lags far behind those National football teams from much less financially-endowed countries, and in the process, struggling to make it to the flagship African football competition (AFCON).
South African participation in the global showcase, the FIFA World Cup, is even more telling and depressing, with their National Men's team (Bafana Bafana) having qualified for back-to-back tournaments in 1998 and 2002,coming as it did on some seriously robust performances at the AFCON, Champions in 1996, runner-up in 1998 and 3rd place in 2000.
South Africa's 2010 participation in the FIFA World Cup that they hosted came by dint of a FIFA rule that stipulates that hosts MUST enjoy an automatic slot in the games, for obvious reasons.
All the performances preceding the turn of the millenium appear to have come from momentum built during the isolation years, but whose decline sadly seems to coincide with the arrival of Danny Jordaan at the helm of SAFA as CEO circa 1996.
South Africans saving grace appears to be in the form of the independent association of leagues going by the trade name Premier Soccer League (PSL) which was formed in 1996 and continues to keep the local game afloat.
Apologists for SAFA incompetence argue that the Women's National football team (Banyana Banyana)has performed well owing in large part to its inaugural Women's World Cup participation in France 2019, where the team did not win a single group match.
On the African continent, the ladies team has had a somewhat stellar quarter century, with 5 runner-up finishes in this biennial event.
All of this on a continent where you can count the number of viable women's leagues in single digit, despite a huge portion of the FIFA Forward grants being earmarked specifically for women's league (not National Team) football.
However, you would need to understand how SAFA President Jordaan short-circuited even simple things like the hiring of a Bafana Bafana coach, to understand the absolute dysfunction in South African football, and become in reality the millstone around the neck of the game in general.
Following the December 2016 sacking of then coach Ephraim "Shakes" Mashaba from the position, the SAFA Council appointed a Search Committee for a replacement comprising SAFA President Jordaan, Chairperson of the Technical Committee, Ms Anastasia Tsichlas, Messrs Lucas Radebe, Benni McCarthy, Budha Mathathe, Farouk Khan and Ms Anna Nyman.
From the outset, it was clear that Jordaan wanted to influence the work of the committee, in February he had quietly intimated to then SAFA CEO Dennis Mumble that former Bafana Bafana Coach Carlos Queiroz was keen on returning to the position and that they should just go ahead and announce it.
When Mumble asked Jordaan whether he was aware that the Iranian FA (who had a current contract with Queiroz) would likely object to his departure, and that Queiroz's salary demands amounted to R41 million, thereby making him too expensive for the cash-strapped SAFA.
In all this, Jordaan was happy to make an impromptu announcement to the media without firming things up with Queiroz, based entirely on a conversation between them, several months old, and exclusive of the search committee.
The Search Committee had previously whittled down the list of 60 applications to 19 in its first round and subsequently reduced it to a shortlist of 5 coaches. Those shortlisted were Coaches Gavin Hunt, Carlos Queiroz, Ruud Krol, Hassan Shehata and Frank Rijkhard. The committee then resolved to interview the 5 candidates from the shortlist.
Jordaan helpfully indicated that he would approach the coaches to determine their availability, though this ought to have been the domain of the CEO and not that of the SAFA President.
However, about a week later, the President called to inform CEO Mumble that he had reached an agreement with Coach Stuart Baxter and that he would call the Search Committee Members to discuss it with them. He also asked Mumble to meet Coach Baxter to finalize a contract of employment.
Baxter had previously held the Bafana Bafana position in the years 2004 – 2005 and variously held coaching positions for giant clubs Kaizer Chiefs and Supersport United.
In this case, Jordaan bypassed the search committee and presented the name of Baxter to the SAFA NEC, as though it was the end-product of the search committee efforts, he had himself already negotiated salary with Baxter but failed to tell anyone else.
It took Baxter himself to confront SAFA CEO Mumble and CFO Gronie Hluyo, claiming he had agreement with Jordaan on the terms of his engagement, and also indicated that he wanted a strong scouting system as part of the agreement.
The obvious and immediate pushback delayed contract negotiations for close to two months, and even then, concluded when Baxter's then employer Supersport United gave SAFA a 2-hour deadline to either give him a contract or they would rescind their acquiescence to his vacating their contract with him.
A relatively unknown fact of the negotiations between Baxter and SAFA had been his insistence that his own son, Lee Baxter, be roped into the National team set-up as goalkeeper coach, though this did not happen explicitly.
We posit here that SAFA would likely never had been in this position, had Jordaan been a respecter of processes and their outcomes, instead like an FA President from a back-water Association, he would happily compound the problems of SAFA needlessly and hamstring it with enormous debt, then disappear from the ensuing fallout forcing others to clean up after him.
And so it came to pass, that last weekend, SAFA Vice-Presidents Gay Mokoena and Ria Ledwaba were ejected from their seats, for what SAFA claimed was their decisions to deal with internal matters outside of laid down protocol.
The duo were to be replaced by Gladwyn White and Anastacia "Natasha" Tsichlas, even though both Ledwaba and Mokoena will continue to remain in the SAFA NEC.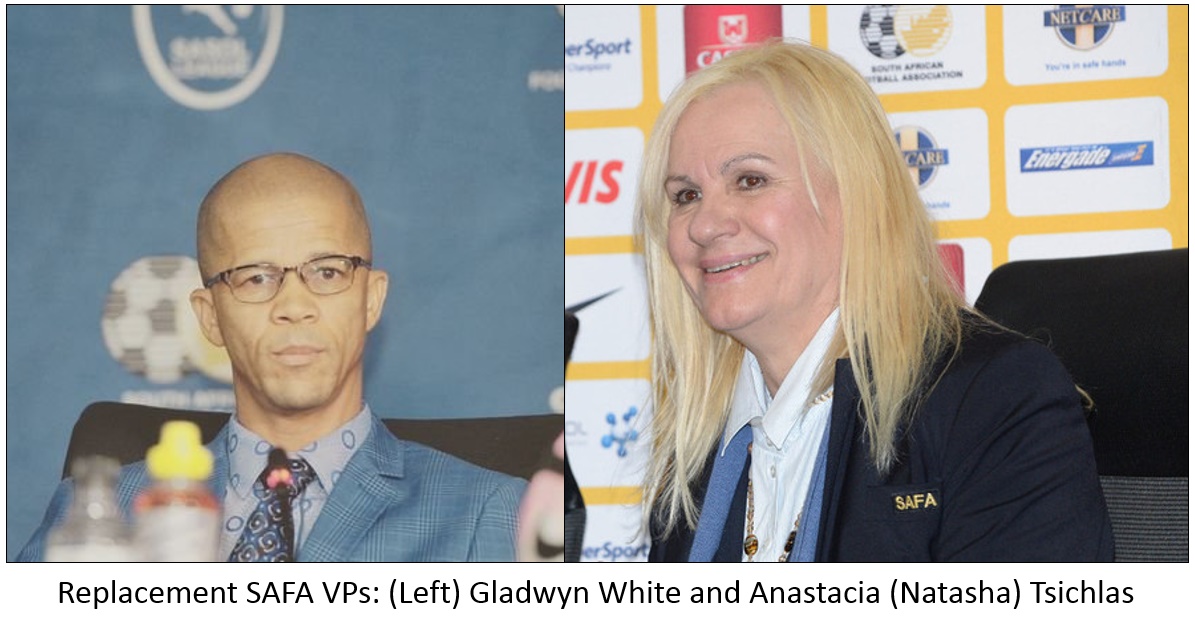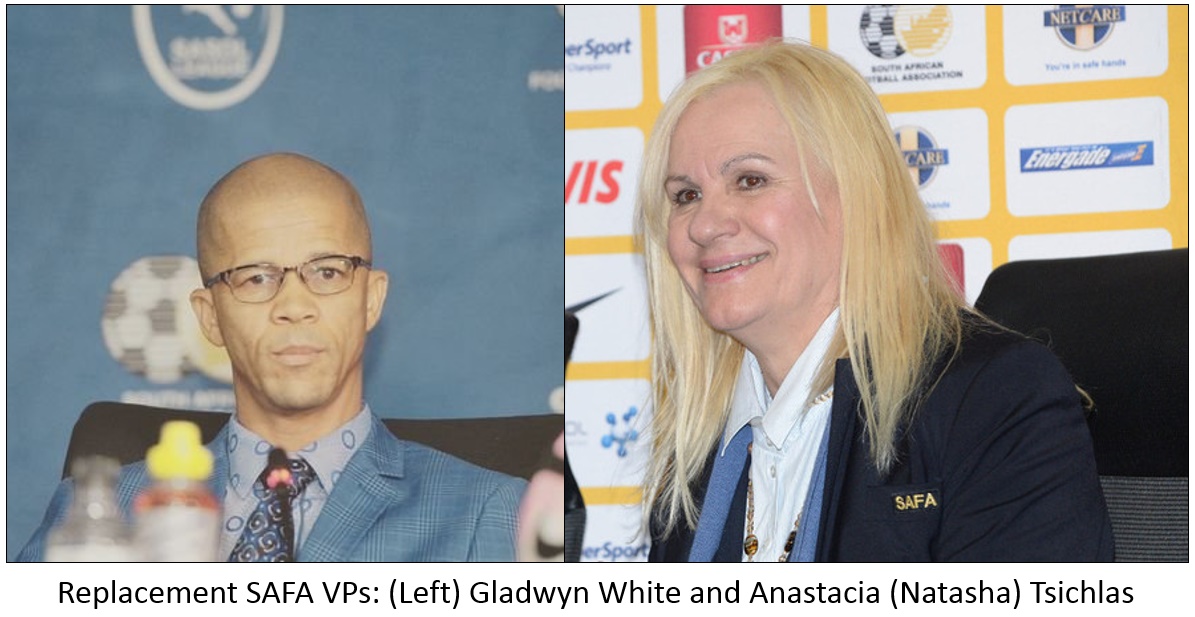 Mokoena had already left his role as acting SAFA CEO in mid-April, sending a long letter to the NEC entitled the "Mokoena Report", where he accused SAFA president Danny Jordaan of going against his own organisation's constitution on numerous occassions.
Surely there must be something seriously wrong within SAFA that has seen it become a revolving door for senior employess, with a succession of 4 CEOs in less than 2 years.
After the ignominious exit of Dennis Mumble in August 2018, he was followed by Russell Paul who was made to mark-time in an acting capacity for close to 15 months before chucking it all in and heading off to Qatar, where he will be involved with the FIFA World Cup 2022 Local Organising Committee (LOC).
He was replaced by Gay Mokoena, himself a SAFA NEC member, who barely lasted 6 months, eventually claiming to have been edged out by SAFA President Jordaan last April.
He would then be replaced in an acting capacity by Tebogo Motlanthe, a lawyer who has been at SAFA as legal officer since 2011.


The common denominator in all these exits has been an omnipresent difficulty to work with elected President Jordaan, who wields executive power in SAFA.
While both Dennis Mumble and Gay Mokoena each wrote dossiers of varied sizes, explaining the tribulations they faced in the position, Russell Paul left without a backward glance, glad to be away from the morass of bad governance that bedevils SAFA.
It all came full-circle for Gay Mokoena, who for his decision to resign in a huff and write a dossier of the ills at SAFA, was eventually ejected last weekend. If he said that this was unexpected, it would make him a particularly poor judge of character and gullible to the machinations of Jordaan.
However, it is the statement by Ria Ledwaba on her Mabaleng Sports Center Facebook page that illustrates why SAFA is just one of the 3rd rate Football associations in Sub-Saharan Africa.
In her defence at the Saturday NEC meeting, Ledwaba laid out her private conversations with Jordaan about governance issues in SAFA and the pedestrian manner that he handled them.
Apparently, the appointment of her fellow NEC member Gay Mokoena to the post of acting CEO was cause for concern late last year, with Ledwaba wondering why the appointment issue was never tabled for consideration by the NEC but more importantly why Anastacia "Natasha" Tsichlas had not been considered for the position given her exemplary record running another giant South African PSL club, Sundowns.
Another issue of contention had been the unprocedural appointment of Mzwandile Maforvane to the position of SAFA general manager and to look after football business/events.
This appointment was neither tabled at the NEC nor discussed anywhere in the decision-making of SAFA, making it highly irregular and suspicious. Does Maforvane have the requisite qualifications and experience for such a position or is he simply a good grassroots mobiliser during SAFA elections, who needs to be kept close for political purposes?
Ledwaba asserts that there also appears to be a consistent discrimination against women at SAFA, where qualified ladies are simply passed-up for key positions or their recommendations shot down ruthlessly by Jordaan, who applies separate standards to women nominees than he does for male nominees.
The treatment of Connie Mapule by Jordaan tells everything there is to about what he really thinks of women in SAFA.
The Schools Sports Committee had presented the name of Stephen Pila to sit on the NEC likely on the basis that Pila is a veteran South African Schools football administrator, but when the Women's committee attempted to do the same by fronting Connie Mapule, who had served SAFA secretariat in various capacities, the committee was shut down by Jordaan, with extreme prejudice.
Even the position of Director of Women's football at SAFA has become a source of conflict, with Jordaan presenting the name of a rank outsider, Lydia Monyepao, completely disregarding at least 5 capable and educated in-house talents to this paid position.
Once more, SAFA NEC comes across as having been bought and perpetually at Jordaans beck-and-call, majority do not care that decisions are made to their complete exclusion, where they are neither consulted nor involved in critical day-to-day decisions.
When Jordaan proved too pigheaded to listen to all these complaints, which were compounded by the sacking of Gay Mokoena in early April and having 3 letters ignored by Jordaan, Ledwaba wrote a letter to the Minister for Sports and the President of the South African Sports Confederation and Olympic Committee (SASCOC) which immediately got a response from both offices.
As an illustration of the gravitas held by Ledwaba, the South African Sports minister actually called an online meeting that was attended by Jordaan, Ledwaba, her fellow VP Nkompela, even though the other two VPs (Irvin Khoza and Gay Mokoena) could not attend for various reasons.
The Minister acknowledged that there were indeed systemic issues in SAFA, as laid out in the Mokoena dossier, that needed to be addressed, but he could only advise that they do it in-house.
Jordaan was livid, to have been called out for the governance basket-case that he really is to the Sports Minister and SASCOC, he immediately put into place a plan to eject the duo of Mokoena and Ledwaba from their Vice-Presidencies at the next NEC meeting.
And so it came to pass, that charges of "being too ambitious" and taking "in-house matters to outside quarters" were framed and put to the duo of Ledwaba and Mokoena at this NEC meeting.
Clearly, Jordaan has an issue with women in positions of power, threatened by them and preferring those who would subordinate themselves to him.
This is the same man who has an active rape investigation going on against him, on reports made by a former ANC nominated MP and music star Jennifer Ferguson, of an incident in her hotel room in 1994.
In fact, he has only filled the VP position in the SAFA NEC with a woman likely because it is stipulated in the equal opportunity clauses of the SAFA statutes.
With its myriad of governance challenges, SAFA, even if it were to be given unlimited government budgets and support, will almost always struggle to hit the right notes in its development programs and therefore National team output. In a word, they would still "suck!"
A quarter century of Danny Jordaan in top SAFA positions has sadly been like a millstone around the neck of the organization, and an eyesore for a country that only a decade ago, hosted the greatest show on earth –  the FIFA World Cup.