The ugly story of "The Sportpesa Heist" continues to be told with new revelations being made literally on a weekly basis, and legal battles overlapping.
In a nutshell, Sportpesa by 2018 had grown in quantum leaps and they were generating revenues of upwards of Ksh150 Billion annually.
The family of the immediate former President Uhuru Muigai Kenyatta could not understand how upstarts like the shareholders and Directors of Sportpesa could be allowed to own a cash cow of such a magnitude. Their toxicity is inherited from their degenerate parents who as founders of the nation, acquired a profound sense of entitlement that Kenya is theirs to strip for parts and dominate inside-out.
And so in 2019, they began the formal shakedown of the company by use of the Kenya Revenue Authority (KRA) and the Ministry of Interior & Coordination of Government vide its voluble and gaffe-prone CS Fred Matiang'i, to forcefully acquire this Kenyan gem which had elevated Brand Kenya to unimaginable heights.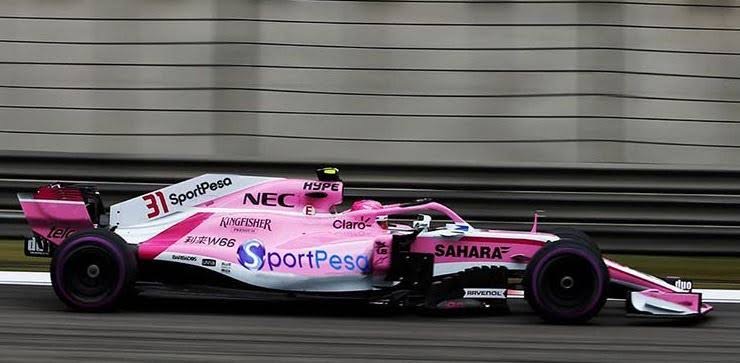 While the enterprise-killing Kenya Revenue Authority (KRA) issued agency notices to the banks which held SportPesa accounts and to Safaricom to freeze the cash held on behalf of Pevans EA Ltd (the bonafide owner of the Sportpesa brand), criminally-culpable Dr. Fred Matiangi illegally used the powers of his office to withdraw the betting license granted to Pevans EA Ltd, and also leveraged the police and immigration services to deport the foreign Directors and employees of Pevans EA Ltd.
Initially, the clueless former Kenyan President had used Parliament to hamstring Sportpesa by increasing excise and other taxes to 35%, but then later changed this stipulation back to 7.5% when his family was able to get into the betting business, during the lockdown period when he should have been overseeing mitigating measures for the adverse effects of the misguided lockdowns and curfews that he instigated whilst pandering to Western nations for donor funds, Trillions of Shillings which disappeared into thin air.
Uhuru Kenyatta (mis)used parliament like toilet paper by bribing the same Members of Parliament who are masquerading as "reformists" today with Kshs. 10,000 (USD100) in the lavatories to pass laws sabotaging the economy, but have since developed selective-amnesia whenever they're cited as agents of state-capture by the Kenyatta Family who change laws on a highest-bidder basis.
Such is the disgusting nature of democracy.
Unfortunately, SportPesa had a huge head-start in the business and the former disaster of a President and his equally intellectually-stunted relatives could not see how they could compete with it.
Heck, they didn't even want or have the sophistication to put in the hard work of building a brand new betting company from scratch and trying to catch up with Sportpesa despite all the resources? This lazy family has had things handed to them on a silver platter for so long that they have taken hard work for granted or to be the preserve of all others apart from their hopeless selves.
Instead, they opted to cannibalize SportPesa and strip it off of its prized assets, and thereafter re-absorb these assets in a different company where they continue to hold a huge ownership stake.
The Kenyatta's began this process by befriending the shareholders of Sportpesa's holding company (Pevans EA Ltd) and keeping an eye on the activities of the company.
A famous picture shows President Uhuru Kenyatta's younger brother Muhoho seated next to a major shareholder of Pevans EA Ltd, billionaire Paul Wanderi Ndungu – and a notorious member of the Kenyatta family, Peter Kihanya, brother to Kathleen Kihanya who together with Uhuru's sister Kristina Pratt, looted billions from the Ministry of Health through the infamous mobile clinic containers still rotting in Mombasa.
Unbeknownst to Pevans EA ltd shareholders, behind the fake smiles and hollow congratulations from the Kenyatta's, there was a plan to disenfranchise them from their company.
It began with the incorporation of a company by the name Milestone Games Ltd, which would be used as the Trojan horse to execute their nefarious plans.
The 2nd part was to put so much pressure on Pevans EA Ltd (Sportpesa) through KRA and the Ministry of Interior & Coordination of Government, and ultimately foment a crisis that would halt operations.
3rd was to send the selfsame Peter Kihanya, to offer to mediate all these problems with the Government due to his known proximity to President Uhuru Kenyatta. In return, he was granted some shares in the Pevans EA Ltd, in the hope that this token would placate him.
Unfortunately, the Kenyatta's lack of ideas is only matched by their ravenous greed and entitlement to each and everything in Kenya and they were not interested in the small pickings that they had been offered.
Instead, they arranged for the deportation of the Bulgarian shareholders of Sportpesa and their other foreign employees, and the withdrawal of their license, alongside those of the other top betting companies in Kenya.
They used the pretext that betting was having a detrimental effect on Kenyan youth, most of whom were spending most of their money placing bets and that some were committing suicide after losing huge sums.
They engineered this narrative by bribing toxic and divisive bloggers like Kileleshwa MCA Robert Alai who fronts sponsored opinions masked as "neutral" observations. Being a Twitter idler who's never generated any wealth of his own, he spends his time on the internet trolling those who have, whilst acting as a mercenary for overzealous Government bureaucrats in key offices like the Ministry of Interior who wish to bulldoze their way into side-hustles whilst still in office.
The flip side of the argument was that many of these youth had mortgaged their lives by over-borrowing on mobile phone lending platforms, and had in the process been blacklisted by the Credit Reference Bureau (CRB).
Ironically the biggest mobile lending platform in Kenya is owned by the Kenyatta family through their bank NCBA, and goes by the name Fuliza. It is run in partnership with Safaricom Ltd, the giant Kenyan Telco.
The 4th step was to alter the shareholding of MILESTONE GAMES LTD and bring on board some select members of Pevans EA Ltd, who would hold the Kenyatta shares in trust on the one hand, and run the new company using their vast experience (gained in the successful running of Sportpesa).
Initially, the shareholding of MILESTONE GAMES LTD was;
| | |
| --- | --- |
| Name of Shareholder | No. of Shares held |
| Nob Five Limited | 9950 |
| Wilson Ngatia Karungaru | 50 |
 NOB FIVE Ltd was then owned by the following;
| | |
| --- | --- |
| Name of Shareholder | No. of Shares held |
| John Munene Nderitu | 250 |
| Jackline Nyambura Kungu | 500 |
| Joseph Muendo Mutua | 250 |
However, this ownership of MILESTONE GAMES LTD changed in 2020 at the height of Sportpesa problems, and silently it was bought by new owners through a revised shareholding of NOB FIVE Ltd.
The new owners of NOB FIVE Ltd became;
| | |
| --- | --- |
| Name of Shareholder | No. of Shares held |
| Selenium Limited | 9600 |
| Jackline Nyambura Kungu | 400 |
 However, it is the ownership of SELENIUM Ltd that is of most interest.
| | |
| --- | --- |
| Name of Shareholder | No. of Shares held |
| Francis Waweru Kiarie | 300 |
| Ronald Kamwiko Karauri | 400 |
Both of the new shareholders of MILESTONE GAMES LTD (through Selenium Ltd >Nob Five Ltd) are to-date still shareholders/Directors of Pevans EA Ltd. The most well-known is Ronald Karauri, the newest MP for Kasarani constituency in Nairobi County and the longtime CEO of Pevans EA Limited the owner of the SportPesa brand.
The late Francis Waweru had been an earlier Chairman of Pevans EA Limited.
In the background of this new shareholding structure, Kenyatta's hold shares by proxy, where both Ronald and Francis have signed blank share transfer certificates for shares in MILESTONE GAMES LTD in the interests of Kenyatta's, who can automatically transfer the shares to themselves whenever they so wish.
Indeed, the license granted to Milestone Games Limited has listed their physical address as Chancery Building Valley Road, the same floor where the Kenyatta Family business headquarters are located under the name "Enke Investments Limited". The original office for Pevans EA Limited are located in the same building but on the 8th floor.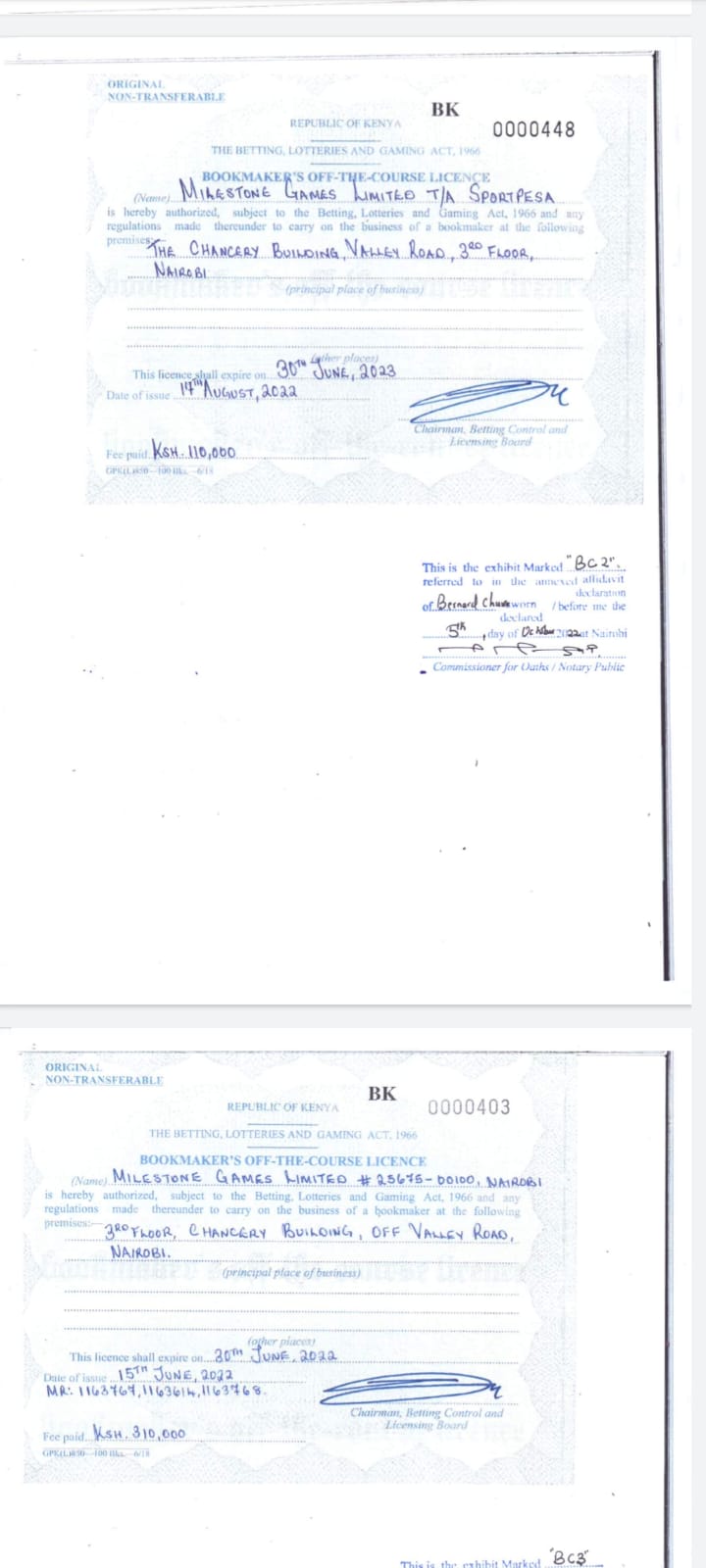 In the meantime, they are happy to pull strings quietly from behind the scenes until the ugliness of the hostile takeover is sanitized by the courts and other Government agencies.
The 5th step was to move the Sportpesa brand and other assets from Pevans EA Ltd to Milestone Games Ltd (MGL).
The move was classic, where Ronald Karauri, while still holding onto the position of CEO/Director/ Shareholder of Pevans EA Ltd, purportedly transferred the registered Trademarks of Sportpesa from Pevans EA Ltd and sold it to another UK-based entity by the name Sportpesa Global Holdings Ltd (SGHL), which was the holding company for betting activities in Tanzania, South Africa and Russia, but had absolutely nothing to do with Kenya.
Karauri "sold" these registered Sportpesa Trademarks to this other company (SGHL) without the knowledge of the other Pevans EA Ltd shareholders and Directors.
Karauri and Pevans EA Ltd company secretary Robert Macharia then compromised the Registrar of Trademarks to accept the transfer of these Trademarks.
Understand this, the Trademarks relating to Sportpesa had been built painstakingly over 5 years with Billions of shillings in advertising and brand exposure, like the sponsorships of top local teams, National teams, Hull City and Everton FC.
How did this clown (Karauri) sell these Trademarks for a mere £100,000, which was non-cash, and then somehow convinced the Registrar of Trademarks that the 2nd biggest brand (after Safaricom) had been transferred this casually?
So brazen was the outright compromise of the Registrar of Trademarks that the application to transfer the Trademarks from Pevans EA Ltd to SGHL was lodged by the lawyer Robert Macharia on 14thSeptember 2020 and the certificate of transfer was issued on 15th September 2020, despite the Trademarks Act asking for such transfer to be advertised over a period of 6 months.
This is how Kenyatta's roll. Laws do not apply to them, apparently.
In the 2013 Presidential debate, when former President Uhuru Kenyatta was asked how his family had acquired close to a million acres of arable land in Kenya, he callously said it was acquired on a "willing buyer, willing seller basis" which some people thought was cute.
Land belonging to 2 generations of Kenyans was acquired in the most brazen manner and those who lost it laughed uproariously when he brushed off the question with near contempt.
The same logic was used here, that a brand that had been built over years with other people's money was to be acquired for a song, and Ronald Karauri willingly acceded to be the conduit for this heist. Kenyans of delusional social success & influencers celebrate and validate such acts of impunity by patronizing the "Milan" restaurant in Nairobi owned by Karauri and built with the proceeds paid by the Kenyatta's to shaft his fellow Pevans EA Limited board-members on their behalf.
How did anyone let this poser get behind the controls of an Aeroplane and actually fly people from one point to another? Christ!
Sport Pesa Global Holdings Limited, because it had absolutely no need for the Sportpesa Trademarks, simply purported to license the Trademarks to Milestone Games Ltd (MGL) non-exclusively for five (5) years.
As we speak today, with Sportpesa now back in operation, it is being run in the background by Milestone Games Ltd and not Pevans EA Limited.
There are 3 more key players in this heist who have played pivotal roles, and that is the Chairman and CEO of the Betting Control and Licensing Board (BCLB) on one hand and the CEO of the M-Pesa brand at Safaricom Ltd on the other hand.
On 30th October 2020, Milestone Games Ltd wrote to the BCLB for the first time and informed them that henceforth the company would be running the SportPesa brand for its Kenyan operations and no longer as "Milestone Bet" which the BCLB had initially licensed.
The BCLB was shocked by this new information, and immediately suspended the betting license issued to Milestone Games Ltd provisionally.
It was after they did a new search at the companies' registry that the BCLB discovered the amendments to the shareholding structure of Milestone Games Ltd, which was vastly different from the documents filed during its application for a betting license.
The BCLB then issued a notice to MILESTONE GAMES LTD to show cause as to why their license should not be canceled permanently.
At the hearing on 4th December 2020 at the BCLB boardroom, MILESTONE GAMES LTD was represented by…drumroll…Ronald Karauri and Robert Macharia, both who were still shareholders/ CEO/company secretary of Pevans EA Ltd.
According to BCLB insiders, these two charlatans were incapable of mounting a credible defense for themselves at this show-cause hearing and the BCLB was left with no choice but to cancel their licence No. 0000205 immediately.
But, this is Kenya, as is usually said to explain the unexplainable.
While everyone now embarked on legal battles in civil court, these Directors at Milestone Games Ltd had other ideas.
They leveraged the dying days of the Kenyatta Presidency and all the influence it could muster, where they hamstrung the BCLB Chairman and CEO into granting Milestone Games Ltd a brand new betting license on 15th June 2022.
The date 15th June is very important because betting licenses are granted along the cycles of the Government year (1st July – 30 June).
So this new grant of a betting license to Milestone Games Ltd was given 15 days to the end of the Government year.
It was done purposefully because there was anxiety about the outcome of the 2022 General elections and who might be in charge of the country and the BCLB.
By granting a licence for only 15 days, then its renewal in the new Government cycle (2022 -2023) would therefore be a mere formality.
And so it came to pass, that licence No. 0000403 was granted to Milestone Games Ltd on 15th June 2022 (to expire on 30 June 2022), and then licence No. 0000448 was issued on 17th August 2022 (to expire on 30th June 2023).
All of this was done in the uncertainty of the General election.
In the licence No. 0000448, the BCLB clearly wrote on its face that the license had been issued to Milestone Games Ltd, with a rider that they would be trading as (T/A) Sportpesa, clearly to avoid any confusion or doubt.
However, Asenath Wacera Maina, the widow to the Late Hon Dick Wathika, the founder and Chairman of Pevans EA Ltd filed a civil suit at the High Court seeking the cancellation of the licence granted to Milestone Games Ltd.
On 13th September 2022, the High Court suspended the operation of BCLB licence No. 0000448.
Milestone Games Ltd continues to operate to date with impunity despite being served with the said orders of the High Court.
Asenath Wacera went back to court on 13th October 2022 and filed a contempt of court proceedings against the BCLB and each of the individual Directors of Milestone Games Ltd including Ronald Karauri and Bernard Chauro.
:Asenath Wacera Contempt of Court Application attached for download below
Separately, other members of the BCLB have filed affidavits stating under oath that they were unaware of the grant of a BCLB licence to Milestone Games Ltd and that no Board meeting has been convened to discuss such a matter since April 2022.
:Affidavits attached for download below.
How then did BCLB issue a license to Milestone Games Ltd?
TRANSFER OF MPESA PAYBILLS AND SHORT CODES TO MILESTONE GAMES LTD
Pevans East Africa Ltd had worked in conjunction with Safaricom Ltd for the 5 years of phenomenal growth between the years 2014 – 2019.
The Sportpesa brand grew in that time to making Kes.150 Billion revenue in 2018, mainly through the Safaricom Ltd platforms of MPESA and short codes
Paybill Nos. 521521, 955100 and 955700
Short codes: 29050 and 79079
As one of the biggest revenue earners for Safaricom, the giant telecommunications company had done serious due diligence on PEVANS (EA) Ltd prior to and continuously throughout their business relationship.
Safaricom has always known the Directors and beneficial shareholders of Pevans EA Ltd, and they have always been well aware of the circumstance when the various Government agencies intervened in the running of the affairs of the company.
However, Safaricom has become drawn into the Sportpesa heist where they have aided and abetted the transfer of the MPESA paybill numbers and shortcodes that were owned by Pevans EA Ltd to Milestone Games Ltd.
To date, MILESTONE GAMES LTD has been using the SPORTPESA brand and the MPESA Paybills numbers plus short codes, as though it was a continuation of the PEVANS EA LTD business.
At no time did Safaricom conduct a proper due diligence into the transfer of the business assets of PEVANS EA LTD to either SGHL and onwards to MILESTONE GAMES LTD despite having unlimited resources available to do so.
Safaricom was aware of the legal and other troubles that faced PEVANS EA LTD and Sportpesa, and yet despite knowing the individual Directors of PEVANS EA LTD on a one-on-one basis, nobody in Safaricom ever bothered to reach out to them and to enquire into the veracity of the claims of transfer.
Safaricom has therefore aided and abetted the criminal conspiracy of Ronald Kamwiko Karauri and Robert Wanyoike Macharia to steal the PEVANS EA LTD property (Sportpesa Brand, Paybills and shortcodes).
We have written here before that M-Pesa CEO Sitoyo Lopokoyit is married to Ronald Karauri's sister Lena Karauri and this familial tie has been leveraged to allow the transfer of the Paybill numbers and shortcodes without a vigorous inquiry into how ownership of the Sportpesa brand was affected.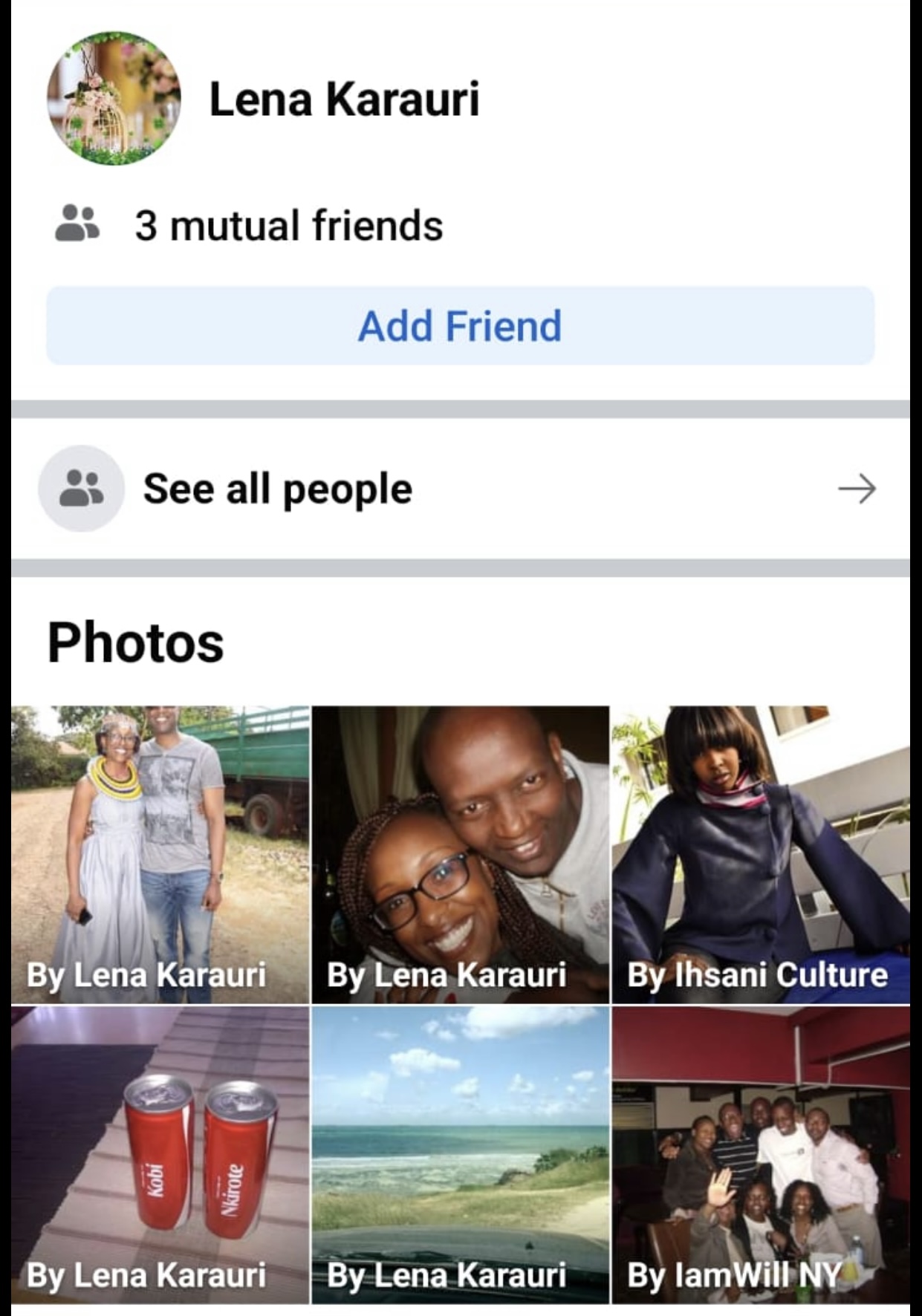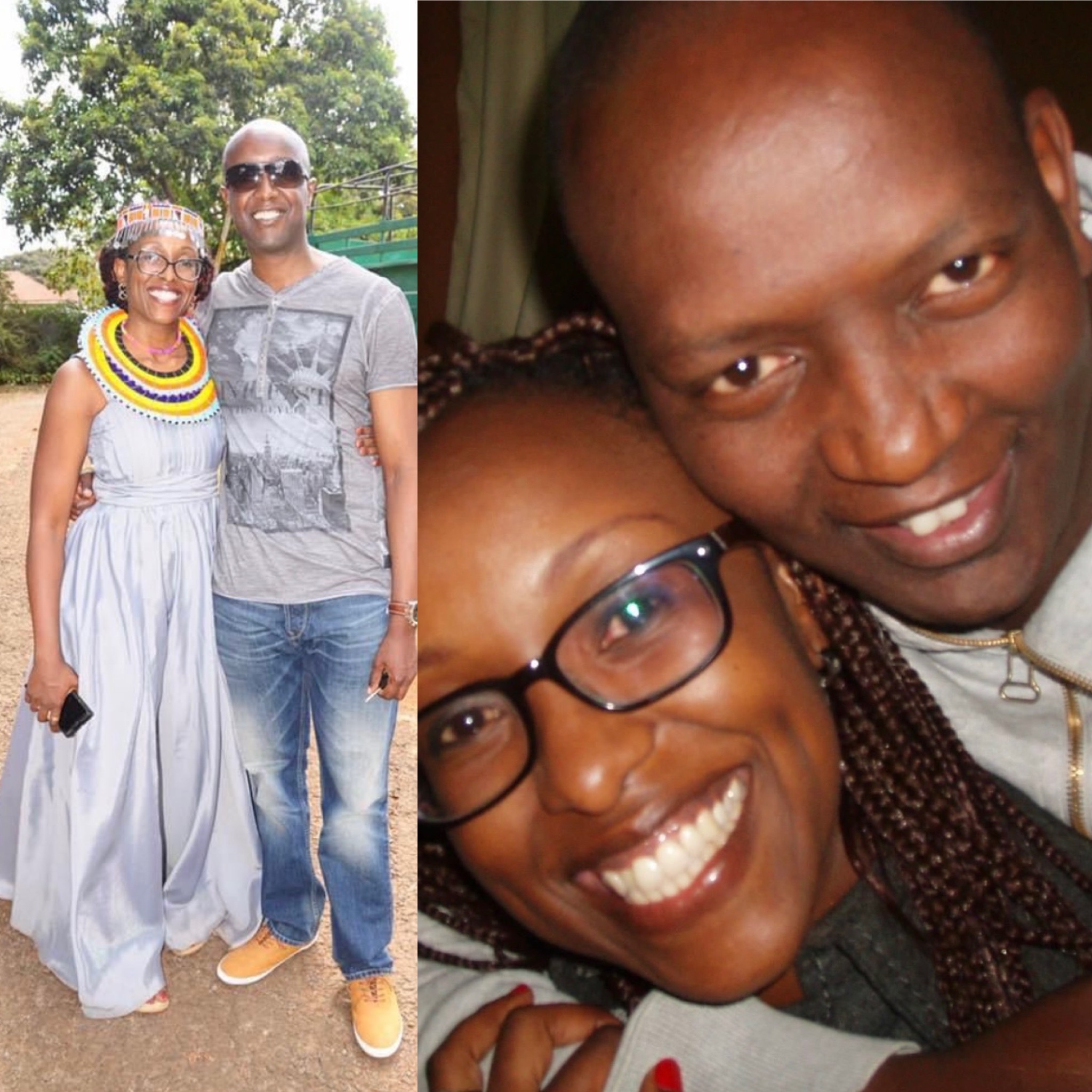 Of greater concern is that Safaricom is a public company with international shareholding and the fact that criminal conspiracy can have been concocted within the company and executed should be a cause of a review of the internal systems of the company.
For example, it is common knowledge that deported Bulgarian shareholder of PEVANS EA LTD, Nikolov Guerassim was flown into the country by private jet for a meeting with Safaricom executives including the CEO Peter Ndegwa and MPESA CEO Sitoyo Lopokoiyit on how the transfer of the properties would be affected.
Indeed, this is Kenya…if the property belonging to Sportpesa can be wrestled from its rightful owners in broad daylight, what of yours?