How will CAF manage its very influential North African members, while preserving the integrity of its structures and competitions?
The influence of the FA Presidents from the Maghreb and Egypt cannot be gainsaid in the current dispensation under the disgraced Malagasy Ahmad Ahmad.
Fouzi Lekjaa, arguably the most powerful and influential of the North Africans, has has had a meteoric rise first into the CAF Exco in 2017, and immediately being handed the Chairmanship of the crucial Finance committee.
By July 2019, his influence came full circle when he was elevated to the position of CAF 1st Vice-President (VP) in a radical purge of the organizations' organs, where real and perceived enemies of the super-paranoid Ahmad were shipped out of key positions.
The first official confirmation that there was something very wrong with CAF Finances came from the Exco meeting of 8th January 2019 at Terrou-Bi Hotel in Dakar, Senegal.
It was during this meeting that members grudgingly agreed to the assertions of their colleagues to have the CAF books of accounts taken through an audit.
What remains unclear though is whether the Exco members meant the normal audit of the accounts as prescribed by the CAF statutes or an extraordinary forensic audit of the books and affairs of CAF.
Why the CAF Exco would be calling for an audit of the organization less than 2 years since the ascension to the Presidency of Ahmad was quite baffling, given that 22 FA Presidents out of the 54 members of CAF sit on the Exco with the express mandate to micro-manage the financial and other affairs of the organization.
So when Fouzi Lekjaa stood before the Ordinary General Assembly of CAF in Cairo on 18th July 2019, in his capacity as the Chairman of the Finance committee to present a hastily put-together PowerPoint presentation about the financial status of CAF, it was evident even before he spoke, that CAF was in dire financial straits.
This was underscored by fact that CAF had apparently NEVER prepared separate audited accounts for the financial year 2017 – 2018.
Lekjaa, in his supremely arrogant style attempted to pawn off combined 2017/2018 and 2018/2019 accounts to CAF members.
Without separate 2017/2018 accounts presented at a General Assembly, how then can CAF claim to have made a budget for income and expenditure for the following year 2018/2019?
However, it was admission to CAF members during his presentation that CAF was already in a state of financial deficit to the tune of minus $ 6 million that floored most of them.
How did this deficit come about and what the hell was the CAF Finance committee and the CAF secretariat doing in office while this happened?
To add insult to injury, Lekjaa had the temerity to tell members that unless CAF found a way to increase revenues urgently, CAF would find itself in a $120m deficit in the next decade.
Why would Lekjaa mislead CAF members when he knew that the contract with Lagadere Sports (marketing agency for CAF) art. 9.5 explicitly provides for an upward revision of the contract money to both CAF and the host country whenever there was an expansion of the competition.
CAF had in 2017 expanded their elite tournament, African Cup of Nations (AFCON) by almost 50% from a 16-team competition to a 24-team competition immediately, commencing from the 2019 edition that took place in Egypt.
In fact, the former GS Amr Fahmy brought this information to the attention of the CAF Exco which then immediately formed a sub-committee to negotiate the increase in revenue with Lagadere Sports.
The committee comprised Hany Abo Rida (immediate former Egypt FA President and FIFA Council member), Fouzi Lekjaa (then CAF 3rd VP and Chairman Finance Committee) and Constant Omari (President DRC FA, CAF 2nd VP and member of the FIFA Council). These were all the CAF heavy-hitters in a crucial sub-committee to ensure that the organization got more revenues from its commercial arrangements.
For some inexplicable reason, the committee only met Lagadere on a couple of occasions before it allowed the negotiations to intentionally lapse and no increase in revenues was agreed upon.
This level of negligence by these officials is treasonable.
By 2019, the entire World saw the signing of spanking new commercial deals by CAF for the AFCON in Egypt. These included deals with Continental Tyres, betting firm 1XBet, financial services provider Visa, coupled with the already existing commercial arrangements with title sponsors TOTAL and telecoms company Orange.
The lucrative broadcast rights sector has also expanded in the same period especially with more coverage expected of the new teams in the AFCON.
So why didn't the CAF Exco sub-committee nail down specific increments with Lagadere as spelt out in the contract to ensure more money flowed into the organization?
Why shouldn't Africans think that these individuals were compromised by Lagadere to let the negotiations lapse? It is the only explanation that would make sense at the dereliction of duty to CAF by its 3 most senior officials.
In the meantime, Lagadere pointman to CAF Idriss Akki continued to hobnob openly and intimately with CAF President Ahmad, GS Mouad Hajji, Hany Abo Rida and others at the Umrah during Ramadhan in Saudi Arabia earlier this year.
A compromised CAF top brass would make it a misfortune for any conscientious employee or Exco colleague to survive in the organization. This was a lesson meted out on Musa Hassan Bility and GS Amr Fahmy.
But why is CAF broke and unable to meet all its obligations currently?
Whereas the Lagadere deal was poorly negotiated initially by the Hayatou administration, it still allowed CAF to continue being solvent, having annual surpluses and to have built a decent financial reserve.
For instance, the AFCON in Gabon was able to generate $65,970,472 from which the hosts received approximately $13 Million.
When Ahmad took over office and became the driver of the finances of CAF in March 2017 alongside Fouzi Lekjaa, they both became as giddy as children in a candy store. They went absolutely crazy with CAF finances, rewarding their cronies, creating new looting streams for FA Presidents, making fictitious payments (Tactical steel and ES Pro Consulting), purchasing luxury vehicles and apartments for Ahmad.
The first big hit for CAF revenues was poorly conceptualized expansion of AFCON from 16 teams in 2017 to 24 teams in 2019, an increase of close to 50% with its associated costs.
The Exco also expanded the CAF Champions League and Confederations Cup to 16 teams annually by re-configuring the order of play from single-leg to home-away basis.
CAF also created new ad hoc committees like the now despised CAF Media Experts committee, an aggregation of the most raucous and servile current or former media practitioners, from different countries with an unclear mandate but earning benefits at almost the same level as FA Presidents.
To illustrate the massive expense incurred by CAF during these tournaments, consider that during AFCON, members of the AFCON committee, CAF Exco members, entire CAF Secretariat and the FA Presidents have to be flown business class to the venue.
They are ALL housed in 5-star full-board accommodation (in Egypt during the AFCON they all stayed at the Marriot Hotel in Zamalek).
The daily transport differs accordingly, with Exco bosses each provided a vehicle of the caliber of a Mercedes Benz or a Toyota V8 for the entire duration. Media experts are each given a choice of smaller though prestigious vehicles to be at their disposal 24-hours a day.
The allowance structure during these competitions is equally amazing with Exco members entitled to $450 daily and Media experts to $250 daily. The regular FA Presidents without portfolio get similar travel and accommodation plus approximately $300 daily allowances.
If you then apply the same logic to the other competitions – Under-17 AFCON, Under-20 AFCON, Under- 23 AFCON, African Nations Championships (CHAN), Beach Soccer AFCON, Futsal AFCON et al…you begin to notice the huge dent on CAF Finances.
This largesse has managed to do certain things, first is to maintain the need for as many of these competitions annually as possible to ensure regular gold rush opportunities.
After AFCON in July 2019, the same people will be expected in Cameroon for the month-long January edition of the biennial CHAN.
The CAF Exco will never propose to reduce the size of competitions, but rather will always seek to expand or create new competitions to ensure opportunities to return to the oasis of funds.
Secondly, there has been a pitched mud fight among the media experts, within the normal fault lines. The Francophone media experts who seem to have the ears of the top Francophone bosses (Ahmad, Fouzi, and Omari) will constantly seek to undermine their Anglophone colleagues.
With the departure of the two strongest Anglophones (Amaju Pinnick- Nigeria and Kwesi Nyantakyi- Ghana) the Anglophone media experts seem to have realized that their continued survival in these lucrative positions is directly proportional to the enthusiasm with which they are willing to kiss Francophone ass. And kiss they do…
Third, no one in the CAF Exco has access to the breakdown of expenses at these competitions to enable it to rationalize costs or evaluate the profitability of each individual competition. Exco members are served with lumpsum numbers which they are then expected to endorse as legitimate expenditure.
The CAF Exco meeting on 20th July 2017 in Rabat, Morocco went a step further and approved allowances and salaries for virtually anyone in the organization.
For example, CAF President Ahmad got an annual bonus of $80,000 over and above a monthly salary of $40,000. The three VPs would get annual bonuses of $70,000 each whereas regular Exco members would get $60,000 annually.
The CAF statutes limit the number of CAF Exco meetings to a total of four (4) annually but Ahmad unofficially amended this to enable him to have at least 6 meetings annually.
Every time the Exco meets is also another mini-gold rush.
In order to buy the complicity of the FA Presidents in the imminent loot-fest, Ahmad and Lekjaa crafted a scheme where each FA in Africa would receive a grant of $100,000 annually, off-budget.
Inside this grant, Ahmad and Lekjaa ensured to propose to FA Presidents at the General Assembly that $20,000 would be sent directly to their individual bank accounts under the pretext that it was a stipend to defray their personal expenses.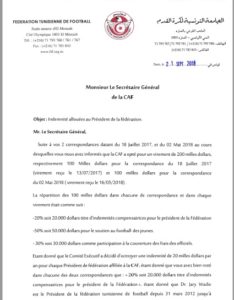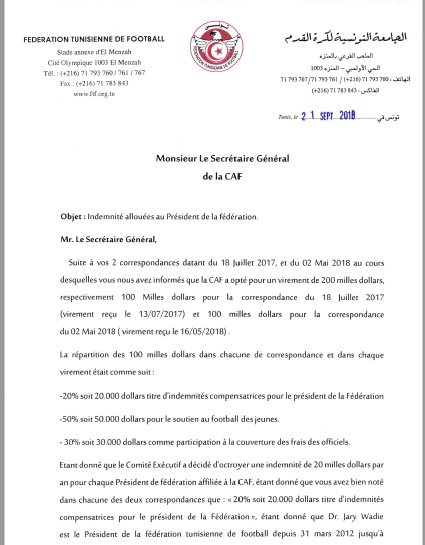 Reporters tell us that there was absolute mayhem in the General Assembly hall after this announcement, with FA Presidents falling over each other to simultaneously praise and thank Ahmad and Lekjaa for their foresight and sagacity. Some wanted to kiss them, others wanted to hug them while others still wanted to hoist them shoulder high while chanting harvest songs in their individual native languages.
By now, CAF has probably already paid out $16.2 million for the years 2017, 2018 and 2019 for the combined 54 FAs. Remember this money was unforeseen and unplanned for by the CAF Exco.
After covering their flanks politically, Ahmad and Lekjaa now went for the financial jugular of CAF.
CAF first ordered 3 high-end and super expensive vehicles for the driving pleasure of Ahmad. One was delivered to his satellite office in Madagascar and the other to Cairo.
A third vehicle, a Bentley, was supplied to him in Morocco by the Chairman of Wydad Casablanca Club, Said Naciri.
Naciri was also instrumental in helping Ahmad acquire a "bachelor pad" in Casablanca at CAF expense, which he uses regularly to entertain guests for his well-known and documented proclivities.
Then obviously there was the now much hyped payments to shadowy companies Tactical steel and ES Pro Consulting.
In 2017, there had been a rush to acquire equipment for the upcoming 2018 CHAN tournament in Morocco, this after Adidas had terminated their contract with CAF for such technical equipment.
Due to time constraints, most other big suppliers of technical equipment could not supply within the stipulated period.
However, global sports equipment supplier PUMA agreed to go out of its way to deliver the equipment for a price of € 315,000. The offer was accepted by CAF and the work to put together the order began.
Unexpectedly, Ahmad did the unthinkable on this confirmed deal on 18th December 2017 and cancelled it with extreme prejudice. He left the task of relaying this cancellation to Puma to Sarah El Gazzar and El Sadik Alaoui, each from the Marketing division and Deputy GS Finance and Administration respectively.
Puma could hardly believe by the callous lunacy of Ahmad in cancelling a confirmed order. Based on the agreement, Puma had no option other than to demand a 30% cancellation penalty of € 105,000, which Ahmad arrogantly refused to pay, thereby bringing CAF into disrepute.
Instead, Ahmad authorized the acquisition of the equipment from the shadowy company Tactical Steel, owned by Frenchman Romuald Seillier and his wife, which is based in Toulon. Seillier has a very close and intimate relationship with Loic Gerrand (PA to Ahmad) since their days in the French Foreign Legion.
In the process of awarding the contract to Tactical steel, Ahmad agreed to pay them the quoted amount of € 1,195,603 for Adidas equipment. This is an inflation of over € 830,000 on the amount quoted by Puma and considering that the technical equipment from the top companies does not vary in price.
It is the complaint by Puma on these transactions that got Ahmad arrested in Paris on 5th June 2019 to answer to various corruption and money-laundering related charges.
To compound the grave situation further, in late 2018 CAF procured 60,000 footballs for distribution to CAF members from ES Pro consulting (an affiliate of Tactical Steel).
For the balls, CAF paid $ 889,412 through a French bank account of the company and separately $ 738,670 through a Dubai-based bank account.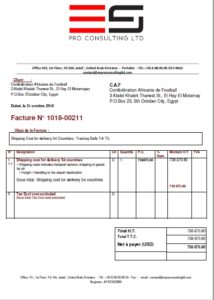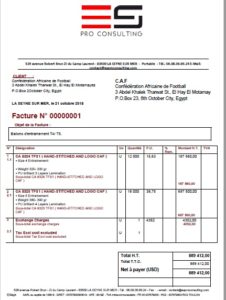 Caption: CAF complicity in money-laundering. Two payments for the same project wired into 2 separate accounts in France and Dubai.
The French police flagged this matter as critical to prove the money-laundering accusations against Ahmad.
Clearly, both Ahmad and Fouzi Lekjaa have engaged in quite a bit of monkey business with CAF bank accounts.
To cover their tracks, they have been systematically replacing old employees in critical positions with Moroccans, whose allegiance is solely to Lekjaa. The appointment of the dentist Mouad Hajji to the position of GS is the clearest example of this open nepotism. Hajji was brought in initially under pretext of shadowing the then GS Amr Fahmy, but insiders point out that Fahmy was going to be ejected anyway, whether he had made the formal complaint against Ahmad to FIFA Ethics committee or not.
So CAF is broke, and the reason has been the consistent looting and raiding of its reserves by President Ahmad and Finance Committee Chairman Lekjaa.
CAF is struggling to pay the prize monies for the recently concluded AFCON, in most cases only having paid 50% down payments to the finalists Algeria and Senegal.
However, CAF was able to pay Egypt an upfront $1,000,000 under the pretext of preparing their fields, the question therefore remains whether this money will be recovered from Egypt's share of the AFCON revenues?
So why is Fouzi Lekjaa using every opportunity he gets to continuously decry corruption at CAF?
This is the same Fouzi Lekjaa who head-butted an Ethiopian referee on the field of play during a Confederations Cup final then pulled strings within the disciplinary committee of CAF to allow the matter to slide.
The same Lekjaa who complained about teams fielding overage players at the Under-17 AFCON in Tanzania earlier in the year, when photo evidence shows his own players to be more than over-age.
Who can forget the time when Ivory Coast FA President Sidy Diallo physically attacked Fouzi Lekjaa on claims that he (Lekjaa) had influenced the selection of match officials, who in turn aided Morocco to unfairly win and qualify for the FIFA World Cup 2018.
During the recent meeting of the Moroccan FA in the town of Skhirat, Lekjaa called out "deep-seated corruption and 'other dysfunction' at the heart of CAF"…
Isn't this a case of the pot calling the kettle black…?
Lekjaa must NEVER be allowed to deflect from his personal role in the looting of CAF coffers alongside President Ahmad.