This uncharacteristically torrid year winds down much like we anticipated that it would, with the suspension of the disastrous CAF President Ahmad Ahmad by the FIFA Ethics committee and the opening of criminal indictments against FIFA President Gianni Infantino by the Swiss Federal Government.
Save for the unanticipated emergence and global spread of the Novel coronavirus (COVID-19), which caused the cessation of virtually all sports and sporting events, other processes continued with slight adjustments as to regimen and protocols, just to keep people as safe as possible.
In Switzerland, questions about the highly suspect meetings between FIFA boss Infantino and others from the federal prosecutor's office led to the resignation of AG Michael Lauber after Swiss parliament set up a special committee to evaluate the impropriety of his actions in secretly meeting with Infantino and other FIFA officials.
This culminated in the appointment of special prosecutor Stefan Keller who already found criminal culpability in how Infantino carried on these meetings, especially because Laubers' own office was handling a number of high profile corruption cases against former FIFA officials.
To date, Keller has proposed the opening up of alternative criminal charges against Infantino with regard to another anti-trust caper where he used a private jet at the expense of the organization, having lied that the urgency (to use a private jet as opposed to commercial flights) was due to a meeting with UEFA boss Ceferin, yet knowing this to be untrue.
In Africa, the nightmarish tenure of Malagasy Ahmad Ahmad came to an ignominious but deserved end when the FIFA Ethics committee finally found its spine and suspended Ahmad for a myriad of charges including corruption, theft and claims of sexual battery against female CAF employees.
Sadly, the FIFA Ethics committee only sentenced Ahmad to 5 years for serious and terrible crimes but had previously hammered former Liberia FA President Musa Hassan Bility with a 10 year ban for significantly lessor accusations and even less convincing evidence.
But that is the nature of this FIFA Ethics committee, completely beholden to Infantino and lacking a vestige of independence, more likely to throw the FCE at supposed anti-establishment elements while handling friends of Infantino with kid's gloves.
All these happenings have come as the 1st term tenure of Ahmad at CAF was coming to an end, and he had received the endorsement of 46 FA Presidents from the African continent to seek a 2nd term.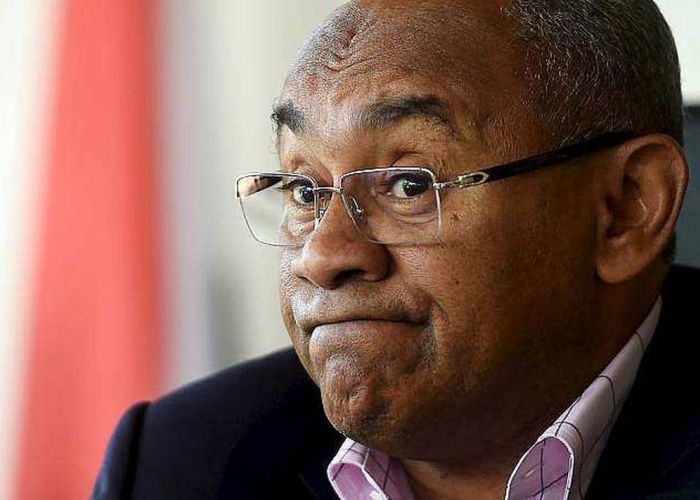 The field has drawn an interesting array of potential CAF Presidential contenders including Mauritanian Ahmed Yahya, Senegalese Augustin Senghor, Ivorian Jacques Anouma and South African Patrice Motsepe.
Which all makes for interesting reading when you consider that these 4 candidates today are the beneficiaries of the courage and determination of Amr Fahmy and Mohammed Sherei, the late former CAF General Secretary and Finance Director respectively, both whose dossier to FIFA Ethics committee would ultimately trigger the suspension of Ahmad.
In the process, both Fahmy and Sherei lost everything that they had worked for incluing pensions just because they stood in oppostion to the outright theft of football funds that Ahmad and his clique considered to be their personal property. Amr's father even contradicted Ahmad in a letter, explaining that CAF never paid for his sons cancer treatment despite making such claims in the media.
Fahmy, the progeny of 2 previous CAF GS's, would be sacked unceremoniously from his post after FIFA GS Fatma Samoura alerted CAF President Ahmad that a formal complaint had been made against him, in essence going against the confidentiality clauses of her own employment contract with FIFA.
We would hope that the next sane CAF dispenstion will move the the CAF EXCO to right these terrible wrongs perpetrated by Ahmad who is an aberration to the African game.
By the time he passed on after battling cancer, Amr had already launched a presidential campaign and bravely started to fearlessly follow through with engaging like-minded FA Presidents.
These candidates are therefore eating fruit from the tree that was watered with Amr's courage, sweat and blood and they should forever be grateful for the opportunity afforded them by this great man.
The trio of Yahya, Senghor and Anouma are viewed to represent the continued dominance of African football by the influential Francophone belt of the continent, which has held the reins of CAF for the longest part of 60 years since inception.
Ivorian Jacques Anouma
The Malagasy Ahmad had become quite adept at leveraging the colonial language divisions of Africa, majority of which are English, French and Arabic and throwing in an additional condiment, where he drew to himself all the Muslim FA Presidents and formed the "Muslim Brotherhood" of robotic voters from this bloc.
The Franco-Islamic bloc therefore forms the first critical mass grouping for any candidate seeking the CAF Presidency.
It was this pandering to the "Muslim Brotherhood" that would land Ahmad in deep funk, when he arranged a $100,000 pilgrimage to Mecca for the Umrah (lesser Hajj) for its members in what the FIFA Ethics committee believed was a scheme to induce or bribe these FA Presidents.
Without the shadow of a doubt, we saw the devastating deployment of these voting robots in Egypt 2018 Extraordinary General Assembly, during the vote for a replacement to the FIFA Council, after the ignominious departure of Ghana FA President Kwesi Nyantakyi.
Whilst the over-qualified candidate for the seat was certainly SAFA President Dr. Danny Jordaan, Morocco FA President and power-behind-the-throne Fouzi Lekjaa had arranged for his humiliation, in retaliation for his stance during the voting for the award of the 2026 FIFA World Cup.
When the votes came back, Jordaan had been handed the ass-whooping of a lifetime, in favor of the colorless and dangerously unremarkable Malawi FA President Walter Nyamilandu.
Clearly, the "Muslim Brotherhood" had flexed a political muscle and announced to all and sundry, of their existence and capacity to deal with anyone who would not follow their lead in matters African football.
In the face of such a political lesson, Dr. Jordaan capitulated to Ahmad and in the process was offered the token of the CAF 3rd Vice-President.
It is against this background that the continent has been electrified by the recent announcement from South Africa of the official announcement by Billionaire businessman Patrice Motsepe, who also doubles up as President of top PSL club Mamelodi Sundowns, to contest the CAF Presidency.
The excitement we feel on the ground is due to the fact that Motsepe represents the first serious Anglophone to throw his hat in the ring, and at the back of the minds of everyone, he has the financial staying power to navigate the very fluid terrain of African football, where cash is King.
This is particularly important because cash will be a key determinant for the winner of this continent's contest and the information filtering through confirms this.
For instance, the candidacy of Jacque Anouma is supposedly being under-written by the Ivorian President Alassane Ouatarra and likely the Nations exchequer. That is how seriously these countries take having one of their own at the helm of CAF and the prestige it would bring their country.

Morocco, hoping to continue holding the reins of the organization, have fronted Fouzi Lekjaa for the Arab-speaking slot in the FIFA Council, where he will be running against Algerian Kheireddine Zetchi and Egyptian Hani Abo Rida.
Morocco is currently on a high, with the Trump Presidency already having recognized its long-contested claim over Western Sahara, in exchange for its recognition of the State of Israel, King Mohammed VI of Morocco is likely bullish about all prospects, and would continue to fund football political activities that allow Morocco to remain in pole position continentally.
Perception is everything, and a drawback in approach became evident when the Francophone candidates chose to announce their candidatures, they elected to do so exclusively on French media like L'monde, which seemed to have rubbed a few of the Anglophones the wrong way.
In South Africa, the job of driving the candidature and campaigns for Patrice Motsepe have naturally fallen to Dr. Danny Jordaan.
What he may not be aware of is the fact that the Francophone section of football do not underestimate Motsepe, and that they play to win.
With this in mind, they have already dispatched spies to infiltrate the Motsepe campaign, who regularly report back with key information or plant their own misinformation.
We have recently heard that there is a burgeoning belief in the Motsepe camp that Fouzi Lekjaa has promised to work with them to ensure the eventual success of their candidates bid for the CAF Presidency.
Is that laughter we hear? We had the exact same reaction when we heard it first!
Why would Lekjaa torpedo his own ambitions or loosen his vice-like grip on the Franco-Islamic caucus that he has controlled for 4 years, and instead support a candidate as strong as Motsepe?
Would Morocco really allow the sleight by South Africa, who have called press conferences on 2 separate occasions to state clearly on one accasion that they (SA) would NEVER support Morocco's bid for the 2026 World Cup due to its continued colonization of Western Sahara.
Didn't South Africa also withdraw from participation in the 2020 Futsal AFCON in Morocco early this year after organizers insisted on hosting the tournament in Laayoune, a city in the disputed Western Sahara?
Yet someone in the Motsepe campaign really believes that Morocco and its FA President will set this bad blood and animosity aside, and throw their support behind a South African candidate.
We are of the view that this person must most certainly be several cards short of a full deck.
For certain, spies abound in each of the political camps due to the uncertainty of the outcome of the election and the expected endorsement of candidates by the corrupt Gianni Infantino. So everyone is very much keeping their cards to their chest in this game.
It is important for everyone to understand that the election appears to have taken a different vein, with candidates wishing to appear independent of Infantino especially after what appears to have been betrayal of Ahmad.
Whatever the case, the die is cast for majority of the candidates and it will be a photo-finish in this race.
We will look at the other races (FIFA Council, CAF Exco) in-depth subsequently.
However, it would be foolhardy for candidates to imagine that there are no shot-callers in such a critical election, influential individuals who have the capacity to swing votes from critical sub-units in favor of one candidate or another.
Here in our list of the most critical individuals going into this elections:
1.    Ahmad Ahmad: The man may be smarting from the coronavirus disease and his 5-year FIFA ban, but he got 46 letters of endorsement from the 54 African FA Presidents, itself no mean feat. Using funds taken from CAF, he had liberally spread it around the continent, the legality or illegality of it notwithstanding, winning him quite a number of followers to the death.
He cannot be wished away and holds a lot of sway in directing a section of voters in which direction to vote. This influence must most likely be wrested away from him but it is expected that he would throw his weight behind Ahmed Yahya and Fouzi Lekjaa.
2.    Musa Hassan Bility: This former Liberian FA President currently appealing a 10-year suspension by FIFA has kept himself relevant in the game and in the process won the hearts of the few critical FA Presidents, especially those who believe that he was bullied for being independent minded.
Many FA Presidents acknowledge his bravery an resent the fact that he was targeted, and many feel that they too can be targeted if they stood their ground against machinations of FIFA and the leadership clique at CAF.
Bility has already written an open letter to Motsepe advising him of the nature of continental politics and to be wary of whom he chooses to front his campaign.
3.    Tarek Bouchemoui: In one of the greatest acts of betrayal by a fellow countryman, Tarek was denied endorsement by Tunisia FA and its President Wadi Jarii, supposedly on the orders of Morocco FA President Fouzi Lekjaa, and at a princely sum of USD 1 Million for Jarii's efforts.
Bouchemoui had done his legwork and leveraged his enormous clout and contacts gained over a decade in the CAF Exco, only to be denied this endorsement, but remains a critical cog in the running of the African game from his perch at FIFA Council and collective years in football.
4.    Zelkifli "Zul" Ngoufonja: This former FIFA development has attempted to keep apace with football developments on the continent despite his departure from the global football body.
He contested the FIFA Council seat in 2017 against Hany Abo Rida, and would subsequently make the formal complaint to the FIFA Ethics committee about bribery in that election. Today, this Ethics investigation hangs over Abo Rida like the sword of Damocles, and we all look forward to its urgent conclusion.
Zul is a natural multi-lingual and his work put him in many countries, where he made contacts which he will likely leverage in the coming months.
***
We feel deeply that African football can and should do better, because to return the game into the hands of those that would gladly kill it, gives us would be an act of suicide.
For sure, there are those who believe that they hold sway in this upcoming duel of the titans, however, we can only quote Shakespeare's play Hamlet and remind them "there are more things in heaven and earth, Horatio, than are dreamt of in your Philosophy…"