The fallout and personal angst between the top two football officials in South Africa, is the stuff of legend.
SAFA President Danny Jordaan and PSL Chairman Irvin Khoza have been known to have frosty relations for years, both of them having been at the pinnacle of South African football management for almost equal amount of time.
Irvin Khoza, nicknamed "Iron Duke" is the President and owner of the celebrated Orlando Pirates Football Club which formed in 1937, Chairman of the South African Premier Soccer League (PSL) and by virtue of this, Vice-President of the South African Football Association (SAFA).
To underscore his football administration credentials, in 1980, Dr Khoza was appointed as secretary of Orlando Pirates F.C from whence he began his illustrious career.
Dr Khoza is a former student at South Africa's famous Fort Hare University but did not complete his degree as he was allegedly expelled for anti-apartheid activities, but was subsequently honored with an Honorary Doctorate of Philosophy by the University of Zululand in 2004.
The award was also in recognition of his involvement in sports development, following his contribution to help South Africa win the rights to host the world's largest sporting event in 2010.
His team Orlando Pirates is the 2nd only South African team to have won the prestigious and the most prized soccer tournament in the African continent, the now CAF Champions League, when Pirates defeated ASEC Mimosa of Ivory Coast in 1995.
Ironically, despite the inferred bad blood between them, Khoza was the chairperson of the 2010 FIFA World Cup Organizing Committee South Africa from 2004 to 2010, as well as the chairperson of South Africa's 2010 FIFA World Cup bid team, which secured the rights to host the 2010 FIFA World Cup in South Africa.
In all these instances, Danny Jordaan was the CEO and executor-in-chief of both committees.
Why then, would Danny Jordaan harbor deep-seated paranoia, hatred and mistrust for Irvin Khoza, a kindred spirit with whom he has served in the trenches?
Could it be a legitimacy issue? That as owner and President of Orlando Pirates, Khoza can actually claim to be a legitimate owner of the South African football by virtue of being the most basic component of the game in that country?
This appears to be the case in majority of African countries, where leagues and FAs are constantly at each other's throats, and in situations where FA Presidents own football clubs, they use most mindless tactics to ensure that these clubs gain entry into the elite tier competition of that country.
Needless to say, barely two months ago, SA Minister of Sport, Arts and Culture, Nathi Mthethwa, confirmed that a meeting with SAFA president Danny Jordaan and Premier Soccer League (PSL) chairperson Irvin Khoza was held to resolve "outstanding issues".
This was after conflicting statements emerged from the two bodies regarding the status of the PSL in the wake of the COVID-19 outbreak.
You see, while SAFA may be the mother body of football in South Africa, it pales when compared to the PSL in terms of commercial value and revenues generated, a fact that keeps Jordaan (like infantino) very agitated.
This scenario is similar in all ways to the one that exists between FIFA on the one hand and UEFA on the other, where FIFA seems to rake in a mere quarter in annual revenues to what UEFA does, a situation that has seen FIFA President Gianni Infantino attempt to bridge that financial divide and assert his dominance on UEFA, in some rather misguided ways.
Former SAFA CEO Dennis Mumble, in his well-elucidated report confirms this, stating therein that "Dr Jordaan has continued to warn SAFA Members of the innate demon that is the NSL (including the PSL) and to always be wary of things emanating from the League. The popular narrative amongst SAFA Members is that the League still harbors designs to dominate SAFA – at their expense – and that they should continue to be wary".
Jordaan continues to blame The League for SAFA's lack of sponsorship, supposedly due to the League crowding the sponsorship market with its content.
You would think that the League flooding the market with its content was good, considering that its content is football which we would assume to be the core business of SAFA.
The Independent Communications Authority of South Africa (ICASA) has long dictated that the national team broadcast rights must be given to a free-to-air broadcaster, thereby preventing SAFA from entering into lucrative deals with subscription broadcasters.
The SABC monopolizes the free-to-air sports broadcasting space with a business model that does not generate revenues matching the popularity of the sports it airs. As a consequence, SAFA cannot extract proper value from its rights and had to accept the SABC's rights fee. This has had the effect of artificially constraining the value of the national teams' broadcast income.
The League, on the other hand, quite innovatively has secured a very lucrative rights fee for its broadcast properties with MultiChoice, the subscription broadcaster.
Both SAFA and the League objected to ICASA's plans to mandate that both of their individual properties be given to a free-to-air broadcaster (meaning the SABC) as it would severely handicap the sport's income and subsequent development in the country.
So why would Danny Jordaan continue hammering away at the propaganda that the continued financial challenges at SAFA are a byproduct of machinations by the League? Whose role was it to lobby Government to ensure that SAFA was compensated from the public purse for making National teams broadcast rights available for free?
And if Danny Jordaan has failed in this basic mandate, shouldn't he just resign and allow others with the gravitas and political connections to step in and make the arrangement work?
A massive opportunity has been lost by SAFA, to work in concert with the League to rationalize this situation, with the League exhibiting runaway success in the matter of broadcast rights while SAFA continues to limp its way to nowhere.
The league vs FIFA Member Association senseless tug-of-war is just one of the examples that give a glimpse at just how diabolical Jordaan really is and what a liability he continues to be to the South African game.
When news leaked after FIFAgate 2015 of the likelihood that South Africa had paid a $10 million bribe to FIFA Executive committee members through Trinidadian Jack Warner, the FIFA investigation pointed to SA 2010 LOC CEO Danny Jordaan and two co-conspirators, who while not named were widely thought to be LOC Chairman Irvin Khoza and then SAFA President Molefi Oliphant.
Oliphant, in mid-2015 said he was "shocked and felt betrayed" after realizing Jordaan had failed to disclose the existence of a December 10 2007 letter that he (Jordaan) had written to FIFA SG Jérôme Valcke  requesting that payments be made to the Confederation of North, Central America and Caribbean Association Football (CONCACAF).
The payment of $10 million was to be paid in advance from FIFA accounts and recovered later from the balance of remittances to be sent to SAFA for World Cup support.
Oliphant said Jordaan, who had been CEO of the LOC of the 2010 tournament, had told him nothing about the letter when they discussed the matter at a meeting just a few days before in a hotel near OR Tambo International Airport.
At the time, only a letter bearing Oliphant's name and signature was in the public domain, fueling speculation that he was the person behind the alleged bribe to CONCACAF.
On the strength of Jordaan's December 2007 letter, FIFA went ahead and made two payments to the African diaspora programme after receiving the requests.
Those were made on January 2nd, 2008 ($616 000) and January 28th, 2008 ($1.6 million). FIFA then made the final payment of $7.7 million three days after Oliphant's March 2008 letter.
Based on these revelations, both FIFA and the US Department of Justice were running simultaneous inquiries, and to protect itself, The SAFA NEC directed that the Association should cooperate with FIFA in the investigation and appointed NEC Member Norman Arendse SC as the Convener of a Task Team that would include the SAFA CEO and the SAFA President to coordinate SAFA's cooperation with FIFA's investigation into the same matter.
Mr Arendse was assigned this task in his capacity as a NEC Member and the then Chairperson of the SAFA Legal & Constitutional Affairs Committee.
When Mr. Arendse fully understood the scope of work expected of him, he informed SAFA that he would be unable to execute this mandate pro bono, and that he would require a professional agreement in order to continue.
This request was approved by the SAFA Emergency Committee (EMCO) on 14 September 2016.

In terms of the rules of the General Council of the Bar, the client (SAFA) had to first secure an instructing attorney, who could then engage Mr Arendse, a Senior Counsel, procedurally.
Mr Zola Majavu was engaged for this purpose at the above-mentioned EMCO meeting. Funds for the engagement of Messrs Majavu and Arendse were also approved in the same meeting of EMCO.
Messrs Majavu and Arendse proceeded to assist in the preparation for the anticipated FIFA interviews that were eventually conducted in 2016. They attended to the FIFA interviews of Messrs Mansoor Parker (the 2010 LOC Company Secretary), Dr Molefi Oliphant and Mr Tokyo Sexwale (former 2010 LOC Board Member).
However, behind everyone else's backs, Jordaan, apparently perturbed and paranoid about possible contradictory testimony given by Dr Oliphant to the investigators regarding the two separate letters of authorization for the $10 million grant to CONCACAF, quietly consulted his own private attorneys at the law firm Norton's Inc.
Norton's would then engage Mr Gilbert Marcus SC to prepare the President's responses for the FIFA interviews. Danny Jordaan's reasoning at the time was that he did not trust the information prepared by Mr Majavu, whom he considered too close to Dr Oliphant and was adamant that Messrs Majavu and Oliphant sought to implicate him in these bribery allegations.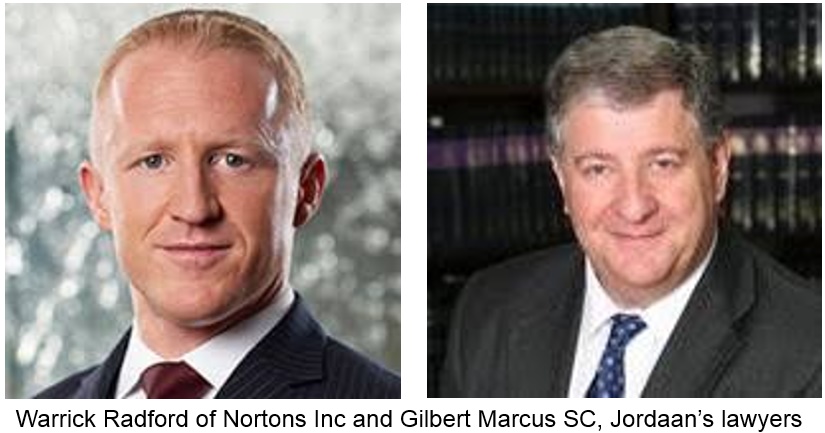 In all these, remember that Jordaan was the sitting SAFA President and part of the ad hoc SAFA committee into these FIFA and DOJ investigations, giving him ringside seats into everything being done by the attorneys and statements issued by the actors in the fiasco.
Ultimately, the hire of all these lawyers whose mandates seemed to supercede each other and denied SAFA a single coherent strategy cost it (SAFA) a colossal R10+ million in fees alone, even including the very pricey lawyers that Jordaan hired himself without the mandate of the SAFA NEC.
Sadly, by bringing on board his own personal lawyers to whom he would give personal instruction, they never sought to represent the interests of the other two persons of interest namely, Molefi Oliphant and Irvin Khoza, both of whom Jordaan was prepared to hang out to dry over the issue.
In 2017, a former singer and ANC nominated MP Jennifer Ferguson accused Danny Jordaan of rape in a Port Elizabeth hotel circa 1993.
He "overpowered" her and "painfully" raped her, she alleged in a blog adding that she had been moved by the #MeToo campaign on social media to speak out and was not looking to bring down Jordaan.
A resident of Sweden, Ferguson formalized the criminal complaint in early 2018, stating that the attack took place when she was "high and happy" following her unexpected nomination by Nelson Mandela's African National Congress (ANC) party to serve in South Africa's first democratically elected parliament in 1994.
Jordaan's first instinct when confronted with the accusations was not to exonerate himself as any rational human being would, rather it was to hire a Trevor Neethling at a cost of 91,000 Rand per month to handle the PR fallout from all the bad press. In a year, Neethling would cost SAFA upwards of R1,000,000.
An immediate repercussion of these allegations on the already dwindling financial fortunes of SAFA, one of its sponsors, AB-InBev, was particularly insistent that the Association should either suspend the President or ask him to step aside until he had satisfactorily dealt with the rape allegations.
In fact, AB-Inbev withheld R10 million of their sponsorship as a result of this matter.
The sponsorship launch for another already agreed Referees sponsorship subsequently delayed for 9 months, specifically due to the unease surrounding the rape allegations and Jordaan's obstinacy in refusing to step aside until the matter was concluded.
It took the intervention of Messrs Russell Paul and Darryl Coutries, from the SAFA Football Business Division to explain to Jordaan the negative impact of his presence to SAFA in the light of the rape accusations, and (vintage Jordaan) he said he would resign, which as you might have guessed, he never did.
Instead, he thought up a childishly simple caper that would pawn off the rape accusations to someone else, in the process (hoping that he would come out of it clean).
In April 2018, Jordaan would request former SAFA CEO Dennis Mumble to meet him at a restaurant in Randburg, where he introduced a "private detective" by the name Zev and presented to both men, a slew of emails purportedly from within the football fraternity, claiming to have information about the Jennifer Ferguson rape case.
Both Mumble and the PI Zev categorically told Jordaan that the emails had too many inconsistencies to be authentic and anyone worth their salt would call into question their source and its motives.
Needless to say, Jordaan is hard of hearing and Mumble would once more be called to meet him at the Southern Sun Hyde Park Hotel a few days later, where he would bump into SAFA head of communications Dominic Chimhavi in the company of PR guru Trevor Neethling waiting in the foyer.
Chimhavi would excitedly tell Mumble that they were waiting for a Sunday Times reporter by the name Mzilikazi Wa Africa, and that they were going to spring a surprise and "some people were going to jail".
A few days later, the Sunday Times sensationally claimed that Dr. Khoza had paid for the entire trip by Jennifer Ferguson and making it a thinly suggestion that the rape allegations were the work of a SAFA Vice-President and Chairman of the PSL!
All these accusations were premised on the clear forgeries that both Mumble and PI Zev had called out barely a few days before, which leads us to enquire into the mental acuity and intelligence of the Sunday Times investigative journalist – Mzilikazi Wa Africa.
Or was he handed an envelope under the table?
Worse still, is that is the best that the PR guru Trevor Neethling could concoct and that SAFA paid R91,000 for per month?
We can't help but wonder, would a different SAFA President be able to bring together the various moving parts of this association into a singular, coherent machine that maximizes the natural football abilities of the South African people with the immense head-start in terms of resources, to deliver what everyone in that country believes they can achieve?
Because right now Jordaan seems (like a star-struck adolescent) only intent in living the glamour life, of 5-star hotels, global flights to World events and hobnobbing with the who's-who in football).
He doesn't seem to want to get his hands dirty with the real work required to grow the domestic game, and will use any and all means, fair or foul, to bring down those like Dr. Khoza, who work tirelessly to keep what's left of the game in SA, afloat.
Psychologists tell us that rape is normally a power-play or a display of such power, and therefore if there exists any truth to the accusations by Jennifer Ferguson, when looked at in the light of SAFA wanting to dominate PSL, then the similarities of intent begin to become much, much clearer…
PART 3: HOW JORDAAN WILFULLY DUG SAFA INTO A FINANCIAL HOLE