We begin with a special dedication to Infantino and Ahmad over their collapsing bromance, with this song, featuring Infantino (as King Julien) and Ahmad (as MoMo)
Sometimes, our journalism is a roller-coaster ride, that compels us to constantly re-evaluate ourselves and our beliefs on the basis of equally fast-changing political landscape at CAF and ultimately of the orchestra conductor, FIFA.
Since we take our cues from the CAF FA Presidents and members of the Exco, we know for instance, that the decision by FIFA to take over the management of CAF and install FIFA SG Fatma Samoura as General delegate has had some positive unintended consequences.
A wide majority of African FA Presidents are ecstatic with the decision by FIFA to remove former Referees committee Chairman and Djibouti FA President Souleiman Waberi from the committee post.
Most of his colleagues had been silently very angry that Waberi was the most sought after FA President in Africa, constantly being flown around the continent by those FAs that wanted favorable allocation of Referees for their World Cup, AFCON, CHAN, Champions League, Confederations Cup, U17, U20, U23 and Women's qualifiers.
The FA Presidents that were willing to grease Waberi's hands, knew that by creating the impression of a stellar performance for their teams, also created a spike in interest from their respective Government who in turn would open the taps of resources to these FAs.
It was an easier way to get Governmental funding than actually developing their domestic game, which many of these FA Presidents are genuinely allergic to.
For others, the perception of a strong National and club teams showing on continental level helped to shore up their political fortunes at home, helping them to maintain their grips on the reins of the FAs in perpetuity and currying favor with the political class of Presidents and Prime Ministers.
So Waberi has been a very critical ally to quite a number of FA Presidents and in the process he made a tidy sum for himself.
We therefore understand his angst and desperation when he heard of the proposal by Samoura and Infantino to create an elite and independent group of African referees, trained and maintained by FIFA who would officiate these elite competitions for Africa, and answerable only to the appointing authority (FIFA).
This announcement was made by none other than Infantino in Lubumbashi in late November when he attended the anniversary celebrations for Giant club TP Mazembe. While at it he also announced the cobbling together of $1Billion fund to support African FAs develop infrastructure.
Unable to fathom the implications of this move by FIFA and his loss of control, he wrote an unprecedented and long-winded missive to CAF President Ahmad Ahmad, decrying these decisions.
It was this complaint to Ahmad, which Waberi simultaneously leaked to other stakeholders and media that sealed his axing and demotion from the CAF Referees committee chairmanship when the new appointments were made a few weeks ago.
The political consequences of this removal of Waberi for Ahmad are equally dire, mainly because he (Waberi) represented a key mobiliser and influencer both in CECAFA and among members of "Muslim Brotherhood" of CAF.
A down-grade in stature means that Ahmad's key lieutenant loses influence that would be critical in the upcoming political year and the decision on whether Ahmad would vie for a second term or not.
From the woodwork, we saw Morocco FA President Fouzi Lekjaa, crawl out and attempt to distance himself from Ahmad and obviously make a play for the CAF Presidency in an interview on www.insideworldfootball.com with British-Nigerian journalist cum lawyer, Osasu Obayiuwana.
Has Lekjaa sensed, as we have, the end of the bromance between FIFA President Gianni Infantino and CAF President Ahmad and hopes to cash in on it by inheriting the latter's entire electoral infrastructure for his own Presidential bid?
Whatever happened to the "3 musketeers of African football", the godless abomination of Infantino, Ahmad and Samoura? Weren't they bound by blood, blind ambition and loyalty to each other?
What has the PwC audit of CAF books discovered as to make Infantino develop an allergic reaction to Ahmad to the extent that Irish communications head Naoise King called off a joint press conference between former bosom buddies Infantino and Ahmad during the CAF awards earlier in the month?
Sources intimate that Ahmad and his cohort were miffed because Samoura appears to have usurped all their roles in the organization of the awards coupled with changing the rules to ensure that CAF no longer operates in cash.
Samoura apparently did not involve the CAF Exco in the execution of the awards, which under ordinary circumstances, represents a peak period for cash expenditure and looting, even the reviled "media experts" were mere joyriders to the event, without any formal engagement.
The political blow-back on Ahmad that CAF funds were unavailable for the expected loot-fest have created a frosty relationship between the hitherto inseparable trio, considering that 2021 will be an epic election year and Ahmad still feels bullish enough to attempt a second run.
Infantino probably only now begins to understand Ahmad as a most unreliable, shifty, back-stabbing ally he has ever had the misfortune of meeting.
Now that FIFA has helped Ahmad consolidate his position after the instability occasioned by his arrest in Paris last June for money-laundering, bribery and theft of CAF funds through a shadowy French company by the name Tactical Steel, he probably feels independent enough to leverage his political machinery for the 2021 vote.
To Ahmad, Samoura appears now to be an irritant who has served her purpose and can be discarded like a 'bottle-cap or a piece of lint'.
Samoura, a Senegalese National, and Ahmad were unquestionably lovers since their days in Madagascar, where she was the UNDP boss while he was the Minister for fisheries in the Government and FA boss. Their mutual fortunes would change forever when they both met Gianni Infantino during a World Cup qualifier pitting Madagascar against Senegal on the 13th November 2015.
The deal struck on that night between the trio ensured that Infantino got the votes to win the FIFA Presidency, Samoura became FIFA SG and a year later, both supported Ahmad in upstaging Issa Hayatou to the Presidency of CAF.
Ahmad has milked this relationship with alacrity, both as a shield and a spear, while he has quietly demolished the African game by preying on the greed and naiveté of African FA Presidents whom he has split conveniently along colonial language lines (French, English, Portuguese, Arabic) and religious lines (Islam, Christianity).
Ahmad managed to trade using the 54 African votes for his personal advantages with Infantino who desperately needed them, Infantino has been unable to manage FIFA through the process of consensus building, preferring instead to ram his warped will through the 200+ members of World football, quite like an engorged phallus into a hesitant orifice.
At FIFA, Samoura would actively block the successive dossiers brought against Ahmad from reaching the desk of the already compromised FIFA Ethics committee for deliberation. Infact she would leak all complaints against Ahmad to him in a misguided show of loyalty to her future antagonist.
Infantino would himself order the head of the investigatory chamber of this Ethics committee to place investigations into Ahmad, including the one commenced by the French anti-corruption police, and which received massive airplay, on the back-burner at Fatma's request.
Anyone who seemed opposed to the direction that Ahmad wanted to take CAF (even if it was down a mine shaft) had to be neutered, as was the case with Liberian Musa Hassan Bility who was suspended for 10 years and fined a colossal amount of money for daring to oppose the lunacy concocted to shield Ahmad from taking political and legal responsibility for his crimes and indiscretions at CAF.
Now Ahmad is tired of Samoura who is now only just beginning to enjoy her stay at CAF Headquarters immensely. In CAF, she reportedly wields the powers of a Monarch, treated like Royalty and her word is law, despite her meagre knowledge of football issues.
At FIFA she had become used to being treated with a mild tolerance, mainly because the staff who worked under her brought with them many years' experience and competence, with a strong grounding of football issues.
To simply state that Samoura felt out of her depth there would be a massive understatement.
Does Samoura therefore want an extension of her mandate as Special Delegate at CAF? Once more, reports seem indicate that she sure as hell does.
However, she cannot ignore the findings of the PwC audit of CAF Finances which have placed the organization in a precarious situation. The interview by www.insideworldfootball.com notwithstanding, there appears a general view that CAF Finance committee Chairman Fouzi Lekjaa may have been finessing the figures to give a more favorable outlook.
However, many of the members of the CAF Exco feel that Samoura has over-stayed her welcome and that her mandate should not be extended, and this is beginning to show in barely discernible ways.
A North African publication first noticed the tension at the FIFA Qualifiers draw, when it reported the normally physically closeness between Samoura and Ahmad was strangely absent.
Also notable was the absence of CAF representation at the FIFA consultative forum convened in Dakar, Senegal under the auspices of the Audit and Compliance department, meant to streamline select FA's who are struggling with meeting FIFA Forward requirements.
Only present was FIFA's head of development Veron Mosengo-Omba while Senegal FA President Augustin Senghor was conspicuously absent as he had been dispatched to Cameroon by CAF President Ahmad Ahmad. Veron was received by the Vice President of the FA, which was quite unusual for such a high ranking FIFA official.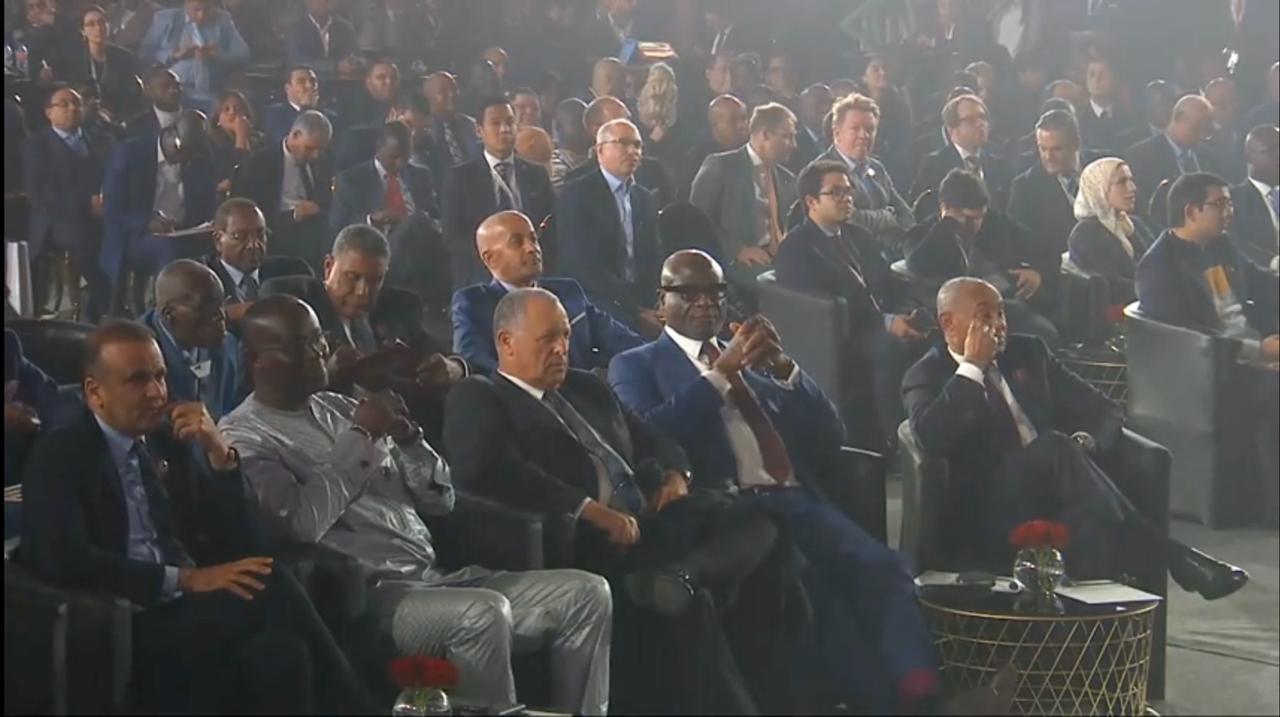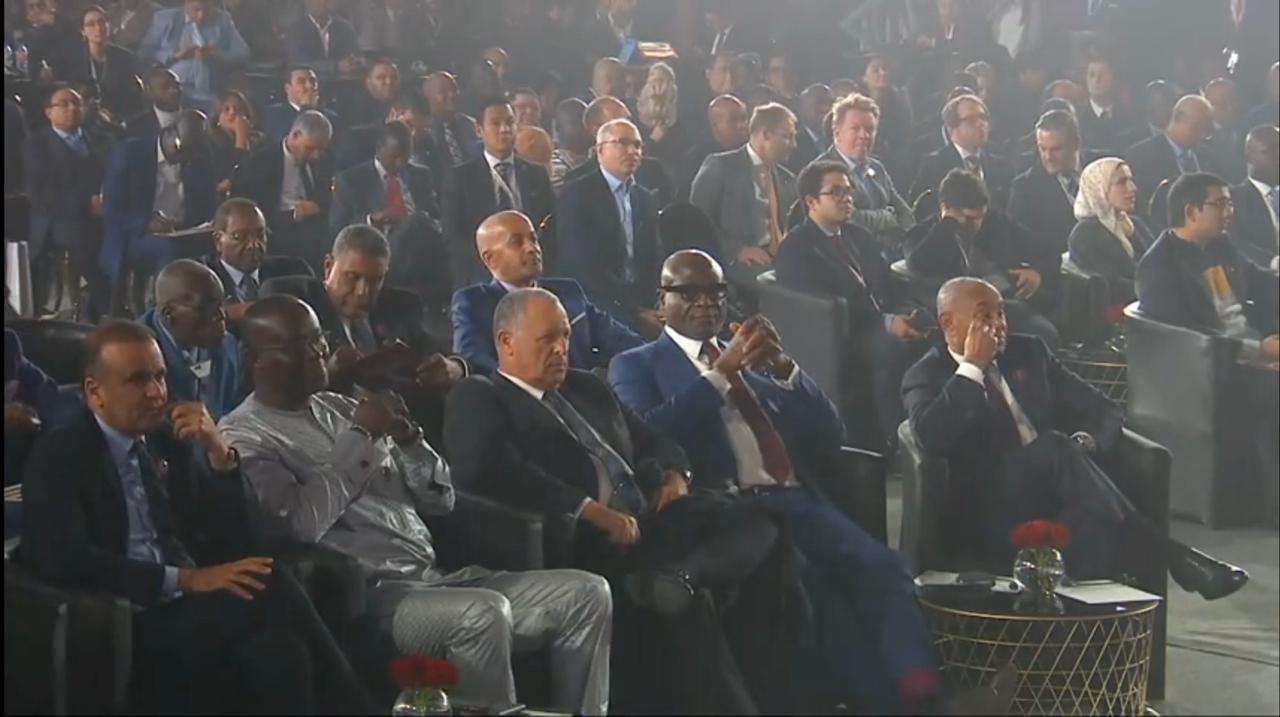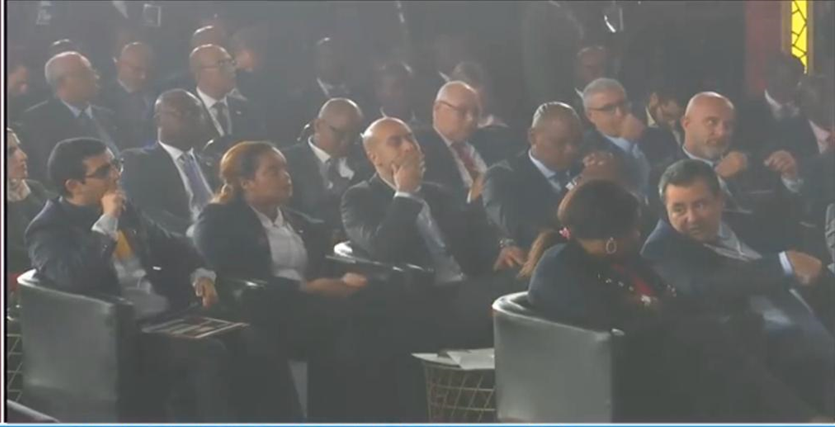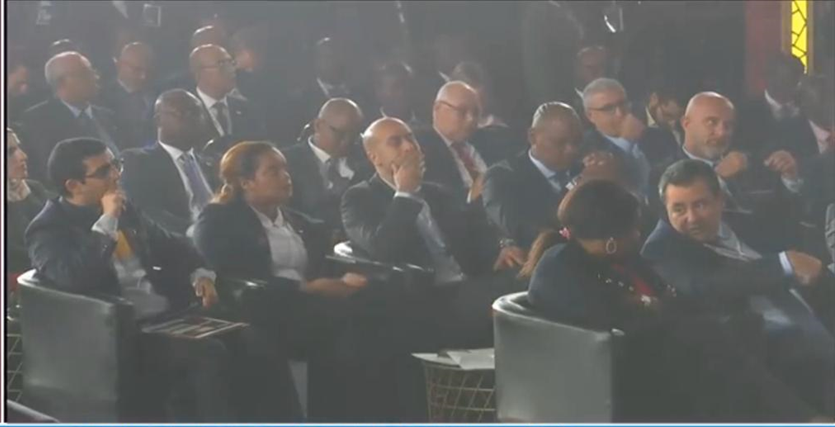 Notice Fatma Samoura seated on one side of the aisle next to a bunch of nobodies at the WorldCup draw held at the Ritz Carlton in Cairo, while in the first frame, Ahmad is seated with his staunchest loyalists Constant Omari (Congo FA President), Hany Abourida (Egypt) Augustin Senghor (Senegal FA President) and Wadii Jarii (Tunisia FA President).
It appeared that the two sets of officials were physically separate by the aisle at the awards in Egypt 3 weeks ago, with Samoura seated with CAF Deputy GSs on one side of the aisle while Ahmad and a section of the Exco were seated on the other.
It further reports that once the evening program was complete, Samoura left hurriedly in the company of FIFA Council member Hany Abo Rida while Ahmad stayed for some time hobnobbing with other guests.
Currently, Ahmad and his Exco are already in Western Sahara and Morocco for the opening ceremony of the Futsal AFCON that is scheduled to take place in the disputed, occupied Western Sahara city of Laayoune.
Notably absent at the Futsal 2020 Opening Ceremony is the normally photogenic Fatma Samoura, who has since been isolated from CAF affairs by the trio of Ahmad Ahmad, Constant Omari and Fouzi Lekjaa.
The hosting of this AFCON in an occupied and disputed territory was such a political hot potato that South Africa declined to participate despite having qualified, while Algeria issued a strong statement stating that they would not be attending the opening ceremony (despite not having qualified for the event).
To better understand the terrible optics of this decision and apparent lack of foresight by the CAF Exco, Gianni Infantino will attend the CAF Exco meeting that will take place in Sale, Morocco on 2nd February 2020, ostensibly to discuss the emotive issue of whether Samoura stays or goes back to Zurich.
Infantino will however not attend the Futsal AFCON in the disputed territory of Layoune because it is a diplomatic faux pas and would be an embarrassment for a FIFA President to get mixed up in such blunders by an affiliated Confederation.
Meanwhile, Samoura quietly jetted into Kampala, Uganda for an official visit to a rather cold reception by Uganda FA President Moses Magogo. The Uganda FA President did not bother to even meet Samoura at the airport upon arrival and instead dispatched junior court-jesters to receive her.
Many here will remember this troubled young loner from our pages in the last quarter of 2019, when he and his FA Presidency were 'saved' by FIFA from a long time in the football wilderness after he entered an illegal plea-deal with FIFA for his role in the sale of $50,000 worth of World Cup match tickets to American business associate in 2014.
For this transgression, Magogo got a slap on the wrist of a 2-month ban before he returned triumphantly to his seat, kept warm by his Deputy, in early December.
Now Samoura comes visiting and instead of Magogo getting up like a good boy and sprinting to the airport to meet her, he sends his Deputy and SG to do so, just to illustrate to her, his displeasure at her presence.
So the question seems to be, is the bromance really over for the duo of Infantino and the crooked nightmare by the name Ahmad?
Has love run its course between Ahmad and Samoura?
Everyone in Africa now knows that they cannot trust or rely on Ahmad, he has the ability to speak from both sides of his mouth, and from where we are sitting, should be nowhere near the CAF Presidency.
Or maybe we are wrong, and a re-colonization of both CAF and Africa is really the sole panacea to help us maximize on our potential…?