CAPTION: FIFA President Gianni Infantino and Swiss Prosecutor Rinaldo Arnold. 
Once again Gianni Infantino, accused of aiding and abetting corruption, money-laundering and sexual abuse at the Confederation of African Football (CAF) by protecting his protege Ahmad Ahmad from Madagascar, is facing accusations of exploiting the mass hysteria surrounding the Corona Virus, beginning with the cancellation of the FIFA Congress in Asuncion, Paraguay slated for 22nd of March, and instead opting for video conferencing. Now Gianni Infantino is mulling cancellation of the entire FIFA Congress, using Corona mass-hysteria as an excuse.
To bring you up to speed, football confederations UEFA and Conmebol, have signed a Memorandum of Understanding which will see a joint approach on matters of mutual interest, and the most important is that they have not ruled out the possibility of a no-confidence motion against the Swiss-Italian football criminal Gianni Infantino.
Mr. Infantino has been accused of bending processes and manipulating institutions, going to great lengths and unconventional means to maintain his grip on power, and undermine his imaginary opponents. Just last week, the Supervisory Authority of the Swiss Prosecutor's Office published a 48-page report detailing collusion between Swiss prosecutors Rinaldo Arnold and Michael Lauber as regards to on-going criminal investigations against FIFA.
Infantino bribed Rinaldo Arnold by inviting him to Wembley Stadium in London for a match in 2015 as well as to Nyon at UEFA headquarters for the draw of the knockout stages of the Champions League, as well as the elective congress in February 2016. Arnold had facilitated the raiding of the FIFA headquarters  through Michael Lauber, so as to gather the evidence which would later lock Michel Platini from running against him in the FIFA Presidential Elections.
Rinaldo Arnold would later be spotted at the VVIP stand during the FIFA World Cup in Russia, posing for selfies with the King of Spain.
Clearly the going rate for bribing Swiss prosecutors is very low, considering that their third world African counterparts get advanced large sums of money in form of bribes and inducements, money which largely ends up in Switzerland, the country which rationalises the spillage of blood and pilfering of public coffers, by allowing war criminals and despots to hide their loot in their banks.
In the same light, Gianni Infantino has rationalised continued theft of FIFA Forward monies by African FA Presidents, in exchange for their vote during congresses.
To date, we have reliably learnt that Gianni Infantino is actively meddling with the FIFA Ethics Committee, trying to redact an audit conducted by PwC into the financial conduct of CAF President Ahmad Ahmad, who together with his first VP Constant Omari (FIFA Council member), 2nd VP Fouzi Lekjaa (Morocco) and Hany Abourida (FIFA Council member) are accused of embezzling $24 million, money which was partially from the FIFA Forward Grants.
But faced with the open rebellion from UEFA and Conmebol, Gianni is having sleepless nights as he contemplates canceling the FIFA Congress altogether, despite the low risk it poses to its participants. It would be easier to monitor and quarantine participants from affected countries instead of a blanket cancellation, but FIFA is ill-equipped for such foresight, with most of their manpower dedicated to exploring avenues to embezzle funds or defeat the course of justice.
The FIFA Congress is scheduled to be held on June 5th in the Ethiopian capital of Addis Ababa, where Fatma Samoura and CAF President Ahmad Ahmad have made several trips to finalise arrangements and logistics.
The Cold War between FIFA and UEFA went up a notch higher after UEFA supported calls. for a revamped of the International Champions Cup (ICC) pre-season tournament from next year, which will rival FIFA's 24-team Club World Cup.
Meanwhile CAF President Ahmad Ahmad has been advised by his mentor Gianni Infantino to lay low, until the storm surrounding the PwC Audit Report dies down. In an uncharacteristic move, Ahmad who was in Tanzania over the weekend attending the Dar Derby pitting Yanga SC vs Simba, kept a low profile and didn't take any pictures. The flamboyant and media hungry Ahmad could not be placed anywhere near the VIP stand, where Tanzania's President John Magufhuli was in attendance.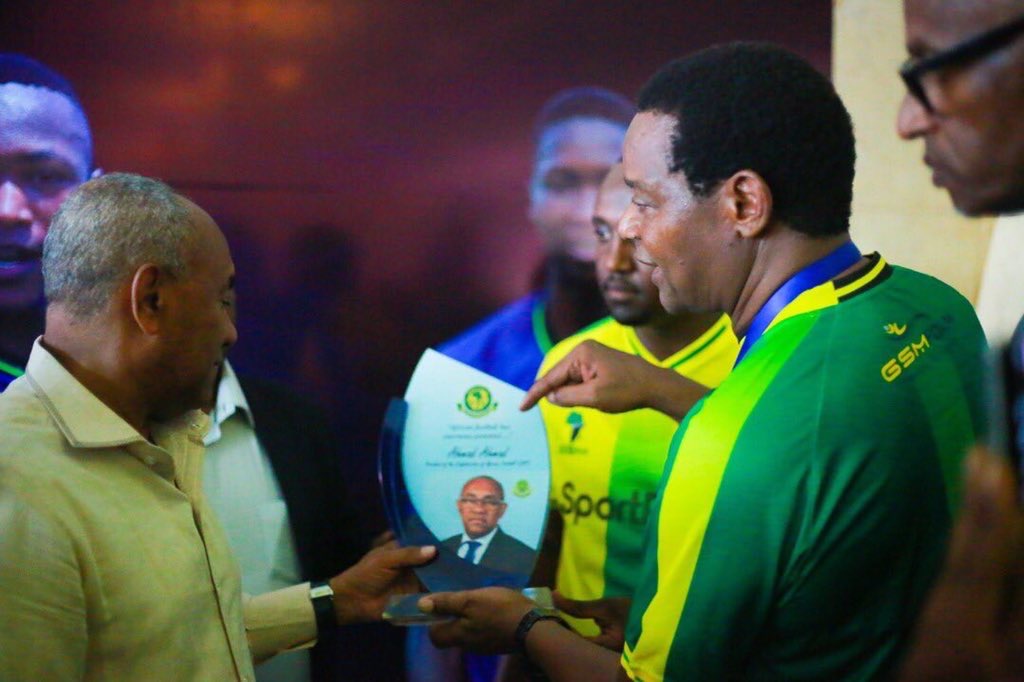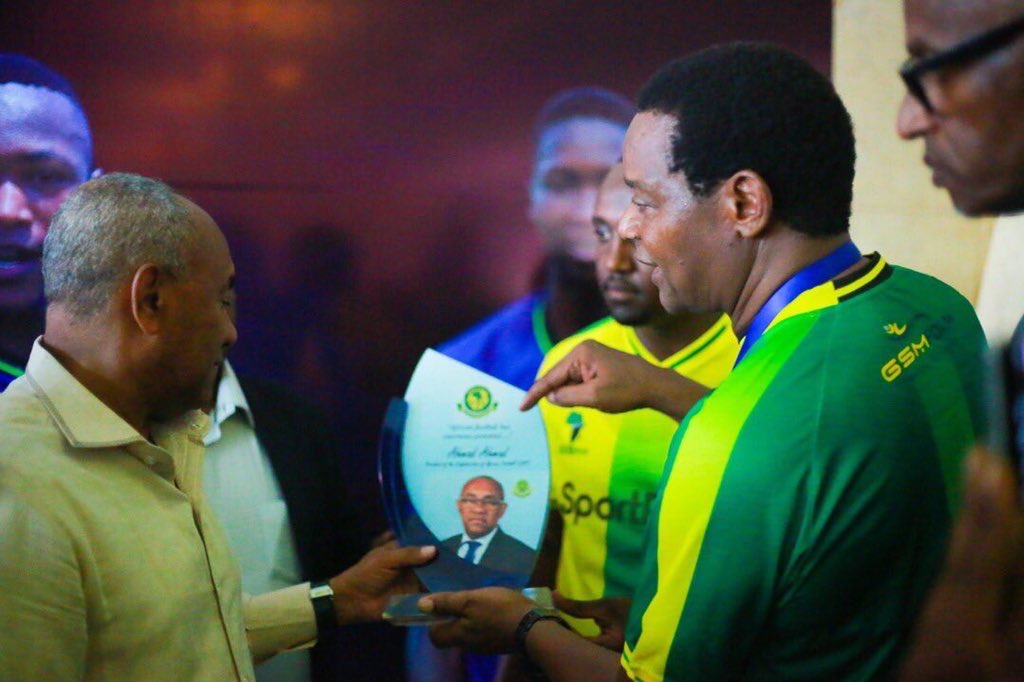 The only photo of Ahmad was a very random one, done by the paparazzi of the club where the Chairman is seen gifting Ahmad with a customised plaque. This was quite unlike Ahmad who is normally quick to post his sojourns on his personal Twitter account or official CAF social media. accounts.
It is still unclear why Gianni Infantino is risking his own presidency for him, but speculation is rife that Gianni's interests could be intertwined in Ahmad's woes.