A section of the African football Anglophone community was hopping mad. CAF President Ahmad Ahmad had used his numerical advantage at the General Assembly in September 2018 to get his longtime friend and ally, Malawi FA President Walter Nyamilandu, elected to the FIFA Council to replace the disgraced Ghanaian Kwesi Nyantakyi who had been forced to resign following a bribery scandal.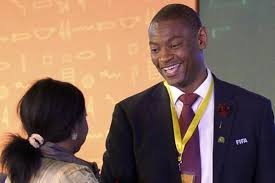 CAPTION: Walter Nyamilandu being congratulated by FIFA SG Fatma Samoura after his FIFA Council victory. The Ahmad clique is very tight.
The Anglophone preferred candidate for this position was South African FA President Dr. Danny Jordaan, a venerated football and apartheid opposition figure, who had been the CEO of the World Cup 2010 Local Organising Committee (LOC).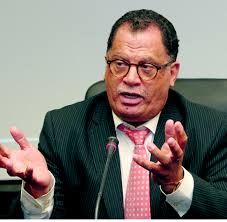 CAPTION: SAFA President and venerated football leader Dr. Danny Jordaan
The vote took place at the Egyptian resort city of Sharm Al Sheikh, and it became the first time where open hostilities in the one-and-a-half year tenure of Ahmad Ahmad were displayed.
The Anglophones literally walked into this ambush naively, Working on the misguided assumption that the Francophone, Lusophone, Arabic speakers and the Muslim FA Presidents would automatically endorse their choice – Jordaan.
Unfortunately, this group of voters was seething with anger, because Dr, Jordaan had, only a few months earlier, committed a cardinal sin when he opted NOT to vote for the Morocco 2026 World Cup hosting Bid but instead he had announced prior to the vote, that in consultation with the Government of South Africa he would vote (which he did) for the United 2026 Bid (USA – Canada- Mexico).
The South African position was understandable, only 25 years since the end of apartheid in their country, the Government and its people were pretty sensitive about imperialism.
You see, Morocco holds the record anywhere in the World of being the last colonial masters, with their occupation of Western Sahara (WS). Now WS is formally recognized by the African Union (AU) as an independent territory, a position that compelled Morocco to exit the AU in a huff in the 1980s.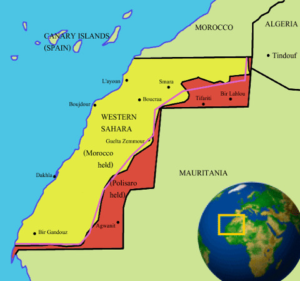 CAPTION: Map showing Western Sahara, and the portion (in yellow) colonized by Morocco despite the entire country being recognized as an independent Nation by the AU.
To underscore their displeasure with the AU, Morocco in 1987 applied to join what is now the European Union (EU) even though their application was rejected for geographic reasons.
In 2017 and after a 33-year absence, Morocco was accepted back into the AU fold despite the emotive WS issue not being dealt with conclusively.
In characteristic African fashion, the matter of WS was deferred to "another day" but in the interim, members decided to allow Morocco back into the family.
And come back, they did!
Alongside their ambitions to host a FIFA World Cup, Morocco wanted virtually everything in sports. Football would however be the biggest beneficiary.
In preparation for the Morocco 2026 World Cup Bid, the Morocco FA entered into "cooperation agreements" with at least 30 African countries, which involved both technical and financial support for their struggling FAs by the deep-pocketed Moroccans.
As expected, there was scant details of this cooperation, even though it appeared to oblige the African FA Presidents to support Morocco in its ambitions, and these FA Presidents in turn would make regular pilgrimages to Moroccan cities, ostensibly to receive their "motivation" from the Morocco FA.
In March 2017, obscured by the historic win by Ahmad as CAF President, the FA Presidents quietly voted in Morocco FA President Fouzi Lekjaa into the CAF Executive committee. This is the high table of CAF decision making and influence in African football.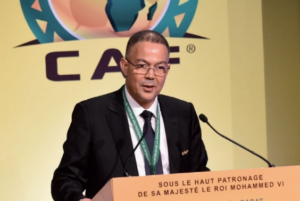 CAPTION: Morocco FA President Fouzi Lekjaa, who has turned out to be the real power behind the throne.
But Lekjaa was so influential that in one of his first acts as CAF President, Ahmad created a position of 3rd Vice President, which does not exist in the CAF statutes, and handed it to Lekjaa, and even handed him the keys to the city – the influential finance committee!
It was against this background that Dr. Danny Jordaan unwisely made the public statement that South Africa would NOT vote for Morocco at the FIFA Congress in 2018. Better he had said nothing!
The 35 or so FA presidents were understandably angry, because the statement by Dr. Jordaan could prove to be an existential threat to their cooperation agreements (and the finances that came with it) and they were not going to let him get away with that.
The beneficiaries of Moroccan largesse were angrier than the Moroccans themselves.

CAPTION: Semi-permanent voters at the beck-and-call of Morocco and President Ahmad at any time. They have openly been linked to the reources availed by Morocco FA.
Dr, Jordaan was also seen as the leader of the resistance of the countries which for one reason or other chose to vote for the United Bid.
So in Sharm Al Sheikh, Dr. Danny Jordaan unwittingly walked into a snakepit where all the pent-up anger and frustration he had aroused in the Morocco/Ahmad clique became manifest in the vote for FIFA Council, where he was trounced resoundingly in the 2nd round of voting by the Malawian Nyamilandu.
A few months later when Cameroon was stripped off the hosting rights to 2019 Africa Cup of Nations (AFCON), South Africa had been mooted as one of the countries which was operationally ready to take up the hosting. Having hosted the FIFA World Cup in 2010, there was actually no reason for CAF to consider any other host for its newly expanded (24-team) AFCON.
Ahmad, probably still vindictive against Dr. Jordaan, disdainfully neutered such aspirations by unilaterally awarding the hosting to Egypt and its FA President –Hany Aburida – his close friend and confidante.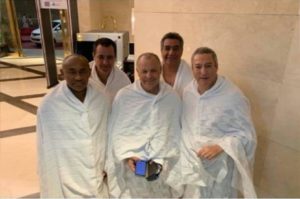 CAPTION: Intimate group photo at the Umrah during last Ramadhan, including President Ahmad, Lagadere's Idriss Aki, CAF GS Mouad Hadji and under-siege Egypt FA President Hany Abourida.
It has recently come to light that the CAF Exco approved a sum of $1 million to the Egyptian LOC for the AFCON, despite the Government footing all the bills related to the event.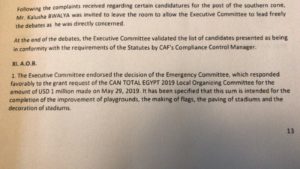 CAPTION: Minutes of the CAF Exco which approved the decision of the Emergency Committee to advance Egypt LOC a grant of USD 1 million
It can be surmised that this money would likely have been shared out among members of the CAF inner circle and could also be the reason behind calls by Egyptian politicians of corruption investigations into the financial affairs of the Egyptian FA which led to the resignation of majority of EFA leadership.
It makes sense that due to his stoic and implacable demeanor, it would have been impossible to even suggest such a caper to Dr. Jordaan and a South African LOC.
However, it is understood that South Africa may have paid upto USD 10 million for the hosting rights to the FIFA World Cup 2010, monies that were approved by the South African Government and paid to the FIFA Exco (currently renamed FIFA Council) members as a bribe.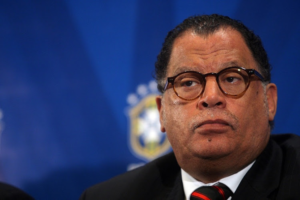 CAPTION: The stern-faced Danny Jordaan, implacable and seemingly unapproachable. Did he execute $10 million bribe for FIFA Exco in exchange for the vote to host the 2010 World Cup?
While Dr. Jordaan was confronting his personal demons in the intervening period, CAF President Ahmad was running himself aground, into a whole load of trouble, within CAF and in his personal life.
When CAF CEO/GS Amr Fahmy reported to FIFA that Ahamd was involved in some major financial misappropriations, and even more seriously, that he was using his superior position to sexually harass, proposition and even assault female members of staff at CAF.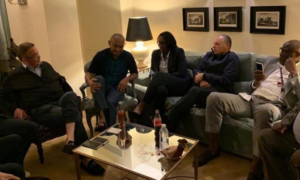 CAPTION: CAF President Ahmad being comforted by close allies following release after 12-hour interviews by the French police
Ironically, if similar complainants of sexual assaults and harassment had been WHITE/EUROPEAN WOMEN, CAF President Ahmad would probably already have been abducted by combined French Foreign Legion, Navy SEALS and British SAS, bundled into a submarine off the coast of Madagascar, and appeared in shackles and a jumpsuit in a European court to answer to these charges.
However, due to Centuries-long sexualization of African women by Europeans and Americans, they (African Women) are seen by Europeans (including media) largely as being fit only for sex and breeding.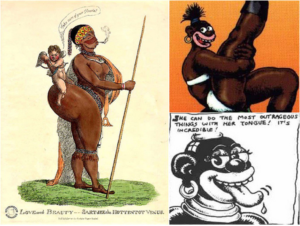 CAPTION: The Hyper-sexualization of African women has made it appear OK to sexually harass or assault them, especially by powerful men.
And so the sexual assault of African women by a powerful man like CAF President Ahmad is seen by European media and even members of the FIFA Bureau and FIFA Council as a mere faux pas, easily denied and forgotten.
Suddenly "presumption of innocence" and "preservation of dignity" of the accused person supersedes the rights and dignity of the victim. Then quickly followed by choreographed attacks against the reputations of these women to intentionally besmirch them and in so doing, lose credibility in the eyes of the World.
FIFA didn't actually take these claims of sexual assault seriously, because the Investigatory Chamber (through SG Fatma Samoura) leaked the identities of these women to Ahmad in the early stages, which gave him the opportunity to go back and intimidate them!
The Council of Europe had clearly drawn the conclusion that the head of the Investigatory Chamber of the FIFA Ethics Committee – Maria Claudia Rojas – did not have requisite competence for this position.
Which is also the reason everyone is skeptical of the role Fatma Samoura (with her known intimate relationship with Ahmad) will play where the women who have complained about sexual harassment and assault are concerned. Will she wave a magic wand and make them disappear? Will she suppress the evidence gathered? Will she broker an alternative dispute resolution with these accusers?
To paraphrase Mario Balotelli – "Why always Africa"?
By the time CAF President Ahmad Ahmad was arrested in Paris on 6th June 2019 for the financial improprieties regarding TACTICAL STEEL and related companies, some members of the CAF Exco had by then seen enough.
It was obvious that Ahmad was happy to sink with the ship (CAF).
FIFA on the other hand, was suggesting something pretty unsettling.
Unprecedented anywhere in the World and completely against its own statutes, FIFA was proposing a "hostile takeover" of CAF for renewable terms of 6 months at a time, indefinitely.
Inside the CAF Exco, former CAF 1st Vice President, Nigerian FA President Amaju Pinnick had silently been preparing for what appeared to be inevitable suspension of Ahmad, following the complaint to the FIFA Ethics committee. He had not reckoned with the interference of the process by both Fatma Samoura and Gianni Infantino.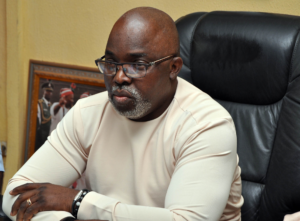 CAPTION: Former CAF 1st VP and Nigeria FA President Amaju Pinnick
He had expected to be installed as the interim CAF President, before the elections to be conducted as per statutes 3 months later.
It is generally accepted that the AITEO-NFF awards hosted in Nigeria on 1st April 2019 were actually the laying of the groundwork for this eventuality. Even the normally raucous Nigerian media had been whipped into line and were now praise singers and court jesters.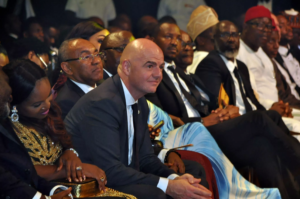 CAPTION: The AITEO-NFF awards 2018 which was attended by FIFA President Infantino and CAF President Ahmad.
At home however, Pinnick was battling a criminal prosecution over missing funds, said to be 10s of millions of dollars released by FIFA for the Nigerian Senior Men's team (Super Eagles) participation in the 2014 FIFA World Cup.
Why did Pinnick freeze and remain inert when the opportunity presented itself and Ahmad was arrested by French Police who kept him for questioning for 12 hours?
Why didn't he marshal the Exco members who were present, galvanize them around the FIFA statement which seemed to throw Ahmad under the bus, and effect a coup?
Instead, Pinnick made the cardinal error of attempting to use FIFA President Infantino as a sounding board for his plans, then going off to watch the French Open held at Stade Roland Garros, instead of sticking around to keep an ear to the ground.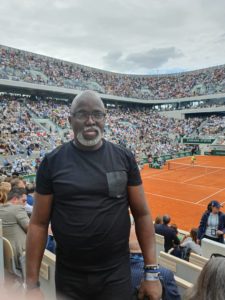 CAPTION: Amaju Pinnick at Roland Garros, while politics was quickly unraveling in CAF where he should have been the point man.
Upon his release, Infantino gave Ahmad the blow-by-blow of the conversation he had had with Pinnick, and probably embellishing a fact or two here and there.
When Ahmad understood that his 2nd in command was eyeing his seat covetously, Pinnick was a marked man too. He should have pulled the trigger when he had the loaded gun in hand.
Elsewhere, the criminal investigation back in Nigeria (against Pinnick and 4 senior officials of the NFF) had metamorphosed into a live grenade. The office of the Special Presidential Investigatio Panel (SPIP) had written directly to the CAF Secretariat asking for clarification of some financial matters.
Apparently Pinnick and his co-accused had written formal statements of defence stating that a huge portion of the money that they were accused of embezzling, had been transferred to CAF accounts for a myriad of official reasons.
The CAF Secretariat, headed by Moroccan dentist Mouad Hadji, wrote back to the Nigerian Prosecutor without the benefit of consulting Pinnick, and confirmed that no such money had ever been paid into their accounts.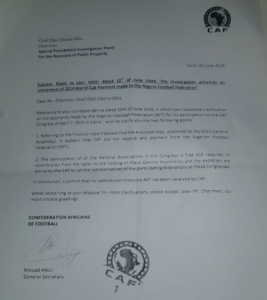 CAPTION: CAF letter to SPIP disavowing any knoweldge of $500,000 allegedly paid into its accounts by NFF, who had used it as defence.
CAF had literally hang Pinnick out to dry…!
Pinnick was livid, as expected, but it's a zero-sum game in football politics and he had missed his shot at a coup. By the time the CAF General Assembly came around on 18th July 2019 in Cairo, he was tossed aside by Ahmad like a piece of lint or a bottle cap. He was stripped of his Vice Presidency which was handed to the dreary Congolese Constant Omari.
However, not all brain cells in the CAF Exco were dead, and another possibility cropped up that could rid CAF off of Ahmad and save the organization from the dangerous trajectory it was currently on.
Musa Hassan Bility, the indefatigable Liberian EXCO member, had spoken to several members of the bloated Exco and agreed on a plan that would see a critical mass of members pass a vote of no-confidence in President Ahmad.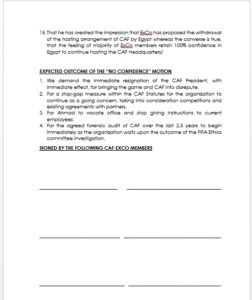 CAPTION: Excerpts from a document circulated to CAF ExCo members meant to impeach Ahmad at the eve of the CAF Ordinary General Assembly. Danny Jordaan sold out his comrades in exchange for a seat in the executive. 
Now both Musa and Pinnick had always assumed that Dr. Danny Jordaan would automatically support this scheme, and indeed he paid the necessary lip-service to the plan. They were misled by his constant rantings against Ahmad's betrayal during the FIFA Council elections in favour of uninspiring Walter Nyamilandu.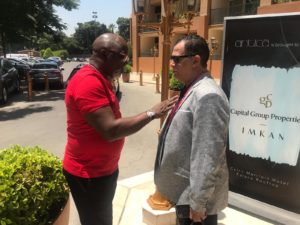 CAPTION: Brutally naive Amaju Pinnick speaks earnestly to Danny Jordaan in Egypt, not knowing he had already sold his soul.
He invited both his Exco colleagues to his hotel room a few days to the crucial EXCO meeting where the no-confidence motion was to be tabled, and he clandestinely recorded their conversation. He then made this recording available to Ahmad, who had previously been completely oblivious to such a plan.
In the next few days, individual members of the CAF Exco were personally threatened with sanction by either CAF or FIFA for participation in this intended putsch. Suddenly neither Bility nor Pinnick could reach any of their Exco colleagues, even those who were previously committed to signing the no-confidence motion.
The 67 year old Apartheid era hero had sold his colleagues down the river with extreme prejudice. He was rewarded days later with nomination to a seat referred to as "3rd Vice President" despite the fact that it does not exist in the statutes.
Apparently Dr. Jordaan had learnt his lesson from the two tangoes he had had with Ahmad and his posse. The voters back home were starting to become restless, and loudly questioning his unacceptability to the body politick of CAF and how useful he would be to the South African reality.
He apparently had no choice but to turn into an impimpi (sellout, informer).
CAPTION: Danny Jordaan photographed with Patrice Motsepe and Fatma Samoura in May 2019 for the Emir's Cup Final. 
The signs of Dr. Jordaans betrayal had always been there, ever since he was seen hobnobbing with the Ahmad crew at the Kings Cup final in Saudi Arabia and in Qatar for the Emir's Cup final. Clearly he was being wooed.
In the process, the removal of independent minded CAF Exco members has cleared the path for Fatma Samoura to find a pliable CAF Exco where everyone nods in agreement, at everything.
This is the CAF Exco that will answer UEFA President Alexsandr Ceferins question about where the authority for the "hostile takeover" emanated. Now FIFA has the group of men it needed to complete a takeover of World football.
The arbitration case filed at the Court of Arbitration for Sports (CAS) in Switzerland by Liberia Exco member Musa Hassan Bility represents the only chance left to salvage this brow beaten football confederation.
FIFA cannot be trusted to do the right thing, can they?
Just last week, Swiss Attorney General (prosecutor) Micheal Lauber was forced to recuse himself and 2 of his deputies from the FIFA corruption investigation after it was discovered that he had had 3 undocumented meetings with FIFA President Gianni Infantino in 2016 and 2017.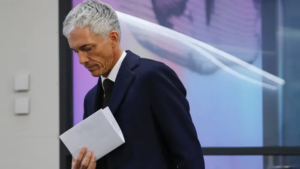 CAPTION: Swiss Prosecutor and investigator Micheal Lauber forced to recuse himself and 2 deputies from the FIFA investigations due to unprofessional and unethical conduct
This was in violation of procedural rules especially because the 3 were investigating 25 FIFA cases related to at least 15 countries.
Pundits wonder aloud if indeed the $10 million bribe paid by South Africa to FIFA Exco members, to "lubricate" the process of awarding the hosting rights to the 2010 FIFA World Cup is among the 25 files being investigated by the Swiss AG.
Could these investigations also be the reason why there are loud murmurs of a FIFA relocation from Switzerland to France?
Why would Infantino have secret meetings with the Swiss Prosecutor of FIFA corruption cases, if the intent was honest?
Doesn't this look exactly like the same kind of interference into investigation and adjudication that takes place on the FIFA Ethics committee?
How rotten is FIFA and its President Infantino?